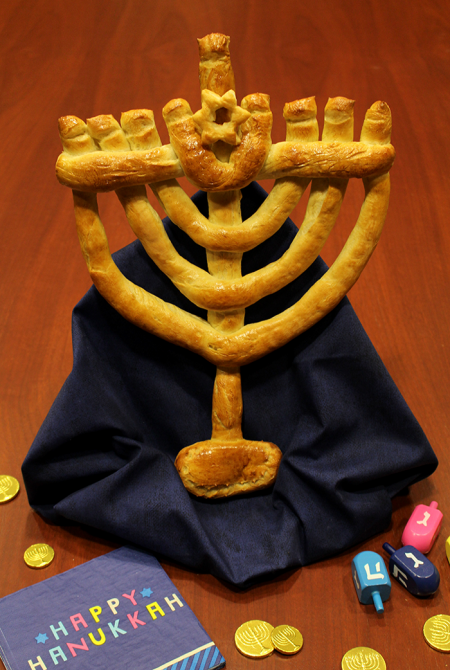 Celebrate Hanukkah with this bread shape developed by Cindy Falk, nutrition educator for Kansas Wheat. The recipe can be used with your favorite homemade bread dough, or even frozen dough purchased at the grocery store. We used frozen dough in our test kitchen for the development of the shape.
Defrost  13 to 14 (1.3 oz. each) frozen dinner roll dough according to package instructions or use  your favorite roll dough.  Tip: working with a cooler dough is easier when sculpting the Hanukkah Menorah. Dough should be rolled in ropes slightly larger than a pencil because they will more than double in size.
Line with parchment paper or lightly grease a large baking sheet.  A 15 x 21-inch baking sheet is the recommended size for a large 14-inch Hanukkah Menorah.
You will need
2 rolls to form 14-inch rope for center of Menorah
1 roll to form base flattened in a 5 x 2-inch oval
3 rolls to form a 30-inch rope for branch #1
2 rolls to form a 28-inch rope for branch #2
2 rolls to form a 14-inch rope for branch #3
1 roll to form a 12-inch rope for branch #4
2 rolls to form a 24-inch rope (cut in half to form two 12-inch ropes)
1  roll to form Star of David, optional
To assemble:
Place 14-inch rope in center of baking sheet forming the central post.
Place oval shaped base at bottom of 14-inch rope creating a sturdy circular base.
Arrange branches starting at bottom with branch #1, then #2,#3,#4, leaving about  1 ½ - inches in between branches allowing for rising.
Place 12-inch ropes under 10-inch branch; trim excess off ends and tuck ends under branch to secure.
The shamash, the ninth candle cup holder, in the center elevated above other candle cups, should extend about 2 ½ inches above the 8 candle cups.
With a pizza cutter or knife, cut off the 8 dough ropes at the top to form even candle cups.
With scissors, clip base around outer edge; clip each candle cup with a few small horizontal clips.
To make the Star of David for decoration (optional), shape 1 roll into a 4-inch circle. Cut star shape with mini-star cookie cutter or draw a 6-point star on paper and use as a template. Using knife, cut around outside and inside edge of star. Place an aluminum foil ball in center to keep open during baking.  Place on baking sheet and bake separate.  Remove foil ball after placing on cooling rack.
Brush Menorah and Star of David with beaten egg wash (1 egg plus 1 tablespoon water beaten together). Bake in preheated 375°F oven 18-20 minutes or until brown.  If necessary, cover with foil to prevent over-browning.  Remove from baking sheet and place on cooling rack. Hanukkah Menorah bread may be served at a meal or dried for a decoration.
Makes 1 (14-inch) Hanukkah Menorah
---