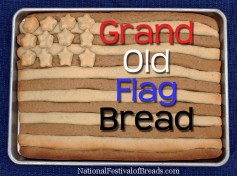 "Grand Old Flag Bread," a winning recipe in the Kansas Festival of Breads, from the Kansas Wheat Test Kitchen, is a perfect bread for Veterans Day, Memorial Day or Independence Day.
Prep Time: 4 hours
Bake Time: 35 minutes
Yield: 1 flag, 36 servings
Ingredients
2 1/2 cups lukewarm water (110-115 degrees F) 
1 package active dry yeast 
1/3 cup vegetable oil 
1/3 cup honey 
5-5 1/4 cups bread flour, divided 
1 1/2 teaspoons salt 
1 1/2 tablespoons wheat gluten 
2-2 1/4 cups whole wheat flour*
Instructions
In bowl, dissolve yeast in water; let set 5 minutes. Stir in oil, honey, 2 cups bread flour and salt; mix 2 minutes. Measure out half of the mixture, about 2 cups; cover and set aside. 
To mixture in bowl, stir in gluten and enough whole wheat flour to form soft dough. Knead 10 minutes. Place in greased bowl, cover, let rise until double. 
To remaining half, gradually add enough bread flour to make soft dough. Knead 10 - 12 minutes. Place in greased bowl, cover, let rise until double. 
Punch down doughs. Cover, let rest 10 minutes. Grease a 17 x 12 x 1-inch pan. 
Roll each dough into a 7 x 16-inch rectangle. Cut each into seven 1-inch stripes. Place a wheat stripe in the pan and continue with a white stripe; use 7 wheat stripes and 6 white stripes. 
To make stars, flatten remaining white stripe until 1/4-inch thick. Cut stars with a 1 1/2-inch cookie cutter. In upper left corner, place a few stars to resemble the flag. To adhere stars make an indention in the flag with finger and moisten back of star with beaten egg white. 
Cover with plastic wrap; let rise until almost double. Bake in 350 degrees F oven 30-35 minutes or until golden and done. Tent with foil last 10 minutes to prevent over-browning. Remove from pan and cool on wire rack.
Nutrition Information
One slice provides 115 calories, 2g total fat, 0mg cholesterol, 95mg sodium, 20g carbohydrates, 1g dietary fiber, 3g protein. 

---