Golden Braided Sesame Bread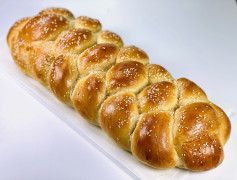 Rachael Kovar won the Senior Grand Champion in Foods at the 2021 Riley County Fair with this beautiful, braided bread.
Ingredients
2 (¼ ounce) packages active dry yeast
1 ¼ cups warm water (110°F-115°F) 
¼ cup canola oil
¼ cup sugar
1 teaspoon salt
2 large eggs
4 ½ - 5 cups all-purpose or bread flour, divided
Egg Wash and Topping
1 large egg yolk
1 tablespoon cold water
1 tablespoon sesame seeds
Directions
In a bowl of a stand mixer fitted with paddle, dissolve yeast in warm water; wait 5 – 10 minutes for mixture to foam. Add oil, sugar, salt, eggs and 3 cups flour.
Beat on medium speed for 3 minutes. Stir in enough remaining flour to form a soft dough (dough will be sticky).
Exchange paddle for dough hook or turn dough onto a floured surface; knead until smooth and elastic, about 6 – 8 minutes. Place in a bowl coated with cooking spray, turning once to coat top. Cover; let rise in a warm place until doubled, about 1 hour.
Punch dough down. Turn onto a lightly floured surface; divide into fourths. Shape each portion into an 18-inch rope. Place ropes parallel to each other on a baking sheet coated with cooking spray or parchment-lined baking sheet. 
Beginning from the right side, braid dough by placing the first rope over the second rope, under the third and over the fourth. Repeat three or four times, beginning each time from the right side. Pinch ends to seal and tuck under. Cover; let rise until doubled, about 35-45 minutes. 
Beat egg yolk and cold water; brush over braid. Sprinkle with sesame seeds. 
Bake in preheated 350°F oven 25 - 28 minutes until golden brown and internal temperature registers about 200°F. Remove from pan to a wire rack to cool. 
Yield: 1 large loaf, 32 servings.
Kansas Wheat Commission Test Kitchen Note: This recipe makes over 2 pounds of dough. Two smaller loaves may be made, adjusting the baking time. 
NUTRITION INFORMATION PER SERVING (1 SLICE, 36 g): 80 calories, 1g total fat, 0g saturated fat, 0g trans fat, 30mg cholesterol, 80mg sodium, 16g total carbohydrate, 1g dietary fiber, 2g total sugars, 3g protein, 32mcg folate, 0mg vitamin C, 1mg iron.
---