German Streusel Cranberry Bagels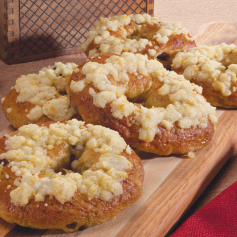 National Festival of Breads Finalist 2013
Elke Roby, Lincoln, NE
Prep Time: 30 minutes (plus 90 minutes on machine setting)
Bake Time: 18 minutes
Yield: Makes 12 Bagels
Ingredients
DOUGH
(Made in 2-pound capacity bread machine) 
Zest and juice of 2 medium oranges 
4 cups King Arthur Unbleached All-Purpose Flour 
2 tablespoons unsalted butter, room temperature 
1 teaspoon salt 
1 tablespoon vital wheat gluten 
3 tablespoons granulated sugar 
1 ½ teaspoons freshly grated orange zest 
1 (1/4 ounce) package active dry yeast 
¾ cup sweetened dried cranberries 
STREUSEL TOPPING 
1/2 cup King Arthur Unbleached All-Purpose Flour 
4 tablespoons granulated sugar 
1 ½ teaspoons freshly grated orange zest 
4 tablespoons unsalted butter, room temperature 
BOILING MIXTURE 
8 cups water 
3 tablespoons granulated sugar 
3 tablespoons baking soda 
Instructions
Zest oranges and set aside. Juice oranges adding room temperature water to make 1 ¼ cups. Place liquid and remaining dough ingredients, except cranberries, into the bread machine pan. Program bread machine on DOUGH cycle and start; after 10 minutes, add the cranberries. 
When cycle is complete, remove dough to work surface; divide into 12 equal pieces. Form each piece into a smooth ball. Poke thumbs through the middle of dough, gently stretching and turning the dough, forming a 3 to 4- inch bagel. 
Place bagels on two parchment-lined baking sheets. Cover; let rise in a warm, draft-free place until double, about 45 minutes. 
While bagels are rising, prepare streusel topping. Place all topping ingredients in a medium bowl. Using a pastry cutter or two knives, work the mixture until fine crumbs form. Cover; refrigerate topping. 
Ten minutes before the end of rising time, preheat oven to 375°F. In a large 4-quart saucepan, bring boiling mixture to a rolling boil. Carefully place bagel onto a wide, slotted spatula, flip bagel top-side down first into the water. Repeat with a second bagel. Boil bagels 1 minute; flip bagels and boil an additional minute. Remove bagels to several layers of paper towels. Boil remaining bagels. 
Place bagels back on parchment-lined baking sheets. Sprinkle streusel topping on bagels. Bake 16 to 18 minutes, until golden brown. Remove to wire rack.
Nutrition Information
One bagel provides approximately 277 calories; 7 g protein; 48 g carbohydrates; 1 g dietary fiber; 6 g fat ( 4 g saturated); 15 mg cholesterol; 61mcg folate; 2 mg iron and 200 mg sodium.
Kansas Wheat Commission Test Kitchen Note: To prepare dough without bread machine: In large mixing bowl, combine dry ingredients and cranberries. Heat liquid to 120° to 130°F; combine with dry ingredients. Knead with dough hook or by hand 8 to 10 minutes. Place in greased bowl, turning to grease top. Cover; let rise in warm, draft-free place until double in size. Continue with Step 2.
Baker's Bio
A few years ago Elke made the attempt to "bake without the box," and to her surprise she was successful. This success began an exploration in baking that has landed her in this contest. She loves to try new things with baking and says she will try anything once. Elke works as a teacher's aide in special education in her hometown of Lincoln, Nebraska. In her free time she enjoys baking, cooking, reading, gardening and kickboxing. A perfect day for Elke would have a lot of time for baking and reading with the windows wide open and a breeze coming in.
---