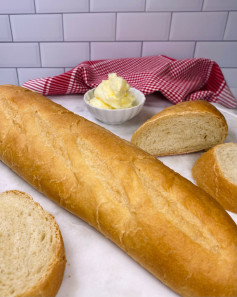 Lexi Todd, Morris County, Kansas, 4-H member, received a purple ribbon on this never fail bread recipe.
Ingredients
2 ½ cups lukewarm water (110°F- 115°F)
2 tablespoons active dry yeast
¼ cup granulated sugar
1 tablespoon salt
1 tablespoon vegetable oil
6 – 6 ½ cups all-purpose or bread flour*
1 tablespoon melted butter, for brushing
Directions
In a large bowl, or bowl of a stand mixer fitted with paddle, combine water, yeast and sugar until the yeast is dissolved, 5- 10 minutes.
Stir in the salt and oil; gradually add the flour. Stir with a large wooden spoon or mixer to form a workable dough.
Turn out on lightly floured surface and knead 2 – 5 minutes by hand. Or exchange paddle for dough hook. Knead on medium-low speed 5 minutes or until dough is smooth and elastic.
Spray a large bowl with non-stick cooking spray and place dough in the bowl. Cover with a damp non-terry dish towel and let dough rise until doubled, 1 – ½ hours.
Punch down dough; divide in two equal pieces. Cover; let rest 10 minutes. Roll each portion into a 20-inch rectangle or the length of the baking sheet. Roll tightly from the long side and pinch to seal the side and ends. Smooth the loaf and taper the ends. Place loaves seam-side-down on greased baking sheets. Cover; let rise until almost doubled.
Thirty minutes before baking, preheat oven to 375°F. With a very sharp knife or blade, make 5 or 7 diagonal slashes on top of each loaf, overlapping the slashes. Bake 25 – 30 minutes or until golden brown and the bread sounds hollow when tapped and the internal temperature is about 200°F. Rotate pan during baking. Transfer loaf to rack and brush with melted butter.
YIELD: 2 large loaves, 16 servings each.
Lexi's Note: I substitute whole wheat flour for a portion of the all-purpose or bread flour. For whole wheat: use 2 cups whole wheat flour and 4 cups all-purpose or bread flour. If using white whole wheat flour, I use a bit more: 2 ½ - 3 cups of white whole wheat flour and 3- 31/2 cups all-purpose or bread flour.
KANSAS WHEAT COMMISSION TEST KITCHEN NOTE: If desired, 3 loaves may be formed from the dough, adjusting baking time.
NUTRITION INFORMATION PER SERVING (1 SLICE, 47g):  90 calories, 1g total fat, 0g saturated fat, 0g trans fat, 0mg cholesterol, 220mg sodium, 20g carbohydrate, 1g dietary fiber, 2g total sugars, 2g protein, 38mcg folate, 0mg vitamin C, 1mg iron.
---