Dutch Oven Sunny Cranberry Loaf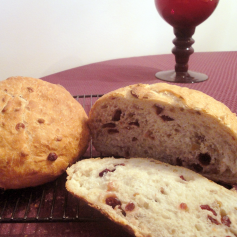 Ingredients
1/4 cup sunflower seeds 
2 1/2 cups bread flour plus 1 tablespoon
1 package (1/4 ounce) fast-rising yeast
1 teaspoon finely grated lemon zest
1 teaspoon salt
1 cup cold tap water
2 tablespoons honey
1 tablespoon sunflower oil
1/2 cup dried cranberries
2 tablespoons cornmeal
Directions
Preheat oven to 350°F. Spread sunflower seeds on ungreased pan. Bake 8 to 10 minutes, stirring occasionally, or until golden brown. Let cool.
In food processor bowl with dough blade in place add 2 1/2 cups flour, yeast, lemon zest and salt. Process 10 seconds.
Stir together water, honey and oil. With the food processor running, slowly add water mixture steadily through tube. Continue processing, adding 1 - 3 teaspoons flour until a soft ball of dough forms. Process 60 seconds to form a smooth, shiny and elastic dough.
Add cranberries and sunflower seeds; pulse a few seconds to incorporate. 
Place dough into greased bowl, turn to coat dough. Cover, let rise in warm (80° to 85°F) place until double. 
Turn out dough on work surface; knead briefly and shape into one round loaf. 
Sprinkle cornmeal in bottom of a 4 to 5-quart cast-iron Dutch oven. (Alternative pan would be any oven pan or 4 to 5-quart casserole dish with a lid)
Place loaf seam-side down in pan; cover with lid. Place into cold oven; let rise 20 minutes.
Leaving Dutch oven in cold oven, set temperature to 400°F.  Bake, covered with lid, 55 to 60 minutes. (Thermometer inserted in the center registers 200°F) To enjoy the characteristic crispy crust, serve immediately after baking.
Makes 1 round loaf, 16 servings.
Nutrition information per serving: One slice provides approximately 126 calories; 3 g protein; 23 g carbohydrate; 1 g dietary fiber; 2 g fat (.3 saturated); 0 mg cholesterol; 48 mcg folate; 1 mg iron and 149 mg sodium.
---