Double Chocolate-Cranberry Bread
Elke Roby, Lincoln, Nebraska
Ingredients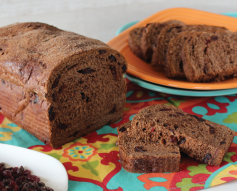 1 cup soy milk (110°F - 115°F)
1 cup unsweetened canned coconut milk (110°F - 115°F)
¼ cup granulated sugar
¼ cup brown sugar
2 (¼ ounce) packages RED STAR® Active Dry Yeast
2 ½ cups King Arthur® White Whole Wheat Flour
½ cup unsweetened baking cocoa powder
1 teaspoon salt
2 large eggs
¼ cup vegetable oil
2 ¼ - 2 ½ cups King Arthur® Unbleached Bread Flour
1 ½ cups dried sweetened cranberries
1 cup mini semisweet chocolate chips
TOPPING (optional)
1 large egg white
1 tablespoon hot water 
1 ½ tablespoons granulated sugar
1 teaspoon unsweetened baking cocoa powder
Directions
In bowl of a stand mixer fitted with paddle, combine soy milk, coconut milk, granulated sugar, brown sugar and yeast. Wait 5 - 10 minutes for it to foam (proof). 
In a medium bowl, whisk together white whole wheat flour, cocoa and salt. Stir into yeast mixture. Add eggs and oil; mix at medium speed 2 minutes.
Gradually stir in bread flour to make a soft dough. Switch to dough hook, stir in cranberries and chocolate chips; knead 10 minutes. Scrape sides of bowl to incorporate cranberries and chocolate chips. 
Place dough in greased bowl.  Cover; let rise until doubled. Spray two 9" x 5" loaf pans with no-stick cooking spray and line with parchment to prevent chocolate chips from sticking. 
Deflate the dough; divide in half. Shape into loaves by rolling each half into an 8" x 14" rectangle. Starting with 8" edge, roll up tightly, pressing dough into roll. Press edge and ends to seal. Place dough, seam underneath, in pan. Cover; let rise until doubled.  Near the end of the rise, preheat oven to 350°F.
Bake loaves 30 minutes. Meanwhile prepare topping: whisk together egg white and water. Combine sugar and cocoa powder. Remove bread from oven.
Brush with egg wash; sprinkle on sugar-cocoa. Bake 10 - 15 more minutes. Bread is done when a thermometer inserted into the center registers about 200°F.  Cool bread in pans on rack for 10 minutes; peel away parchment and return to rack to cool completely.
KWC Test Kitchen Note: Use this bread with your favorite French Toast recipe. 
Yield: 2 loaves, 18 servings each. 
Nutrition Information Per Serving  (1 SLICE, 51g): 160 calories, 4g protein, 26g carbohydrates, 2g dietary fiber, 5g fat, 3g saturated fat, 0g trans fat, 10mg cholesterol, 30mcg folate, 75mg sodium, 0mg vitamin C, 1mg iron, 7mg calcium.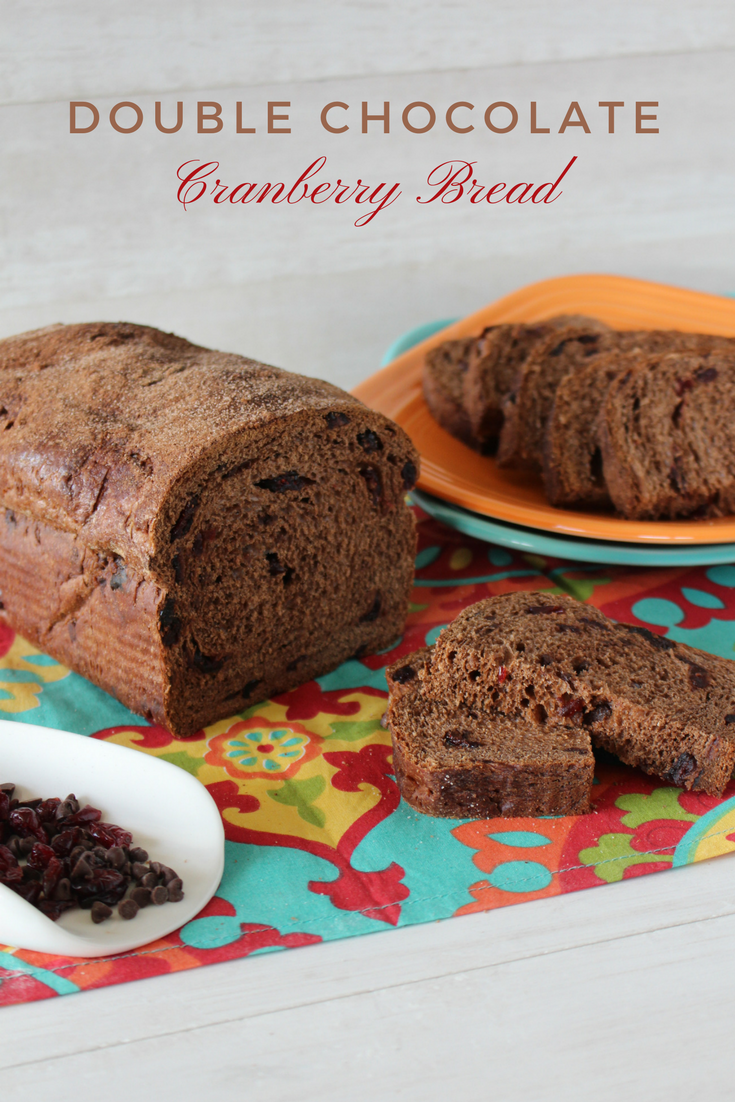 ---