Crispy (Hay Bales) Wheat Rolls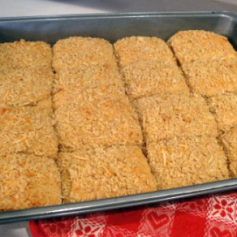 Ingredients
1 1/2 cups white whole wheat flour
1 1/2 tablespoons vital wheat gluten
1/2 - 1 cup bread flour, divided
1/4 cup nonfat dry milk powder
1 (1/4 ounce) package fast-rising yeast
1 1/2 cups finely crushed, (non-sweetened) shredded wheat cereal, divided
3/4 cup water
1/4 cup molasses
1 teaspoon salt
3 tablespoons butter, cut into pieces
2 large eggs, beaten
4 tablespoons melted butter, divided
1/2 teaspoon garlic salt
2 tablespoons finely shredded Parmesan cheese
Directions
In mixer bowl, combine whole wheat flour, gluten, 1/2 cup bread flour, dry milk, yeast and 1 cup crushed cereal.
Combine water, molasses, salt, and 3 tablespoons butter; heat to 120° - 130°F.  Stir into flour mixture, blend well. 
Reserve 2 tablespoons beaten egg for topping, blend rest into dough. Scrape down bowl; beat at medium speed 2 minutes. Stir in remaining bread flour to make a moderately soft dough. Knead dough by hand or with dough hook 8 to 10 minutes. Cover; let rest 10 minutes.
Meanwhile, spray a 13 x 9 x 2-inch baking pan with nonstick cooking spray. Mix 1/2 cup cereal with 1 tablespoon melted butter, garlic salt and Parmesan cheese. 
On a lightly floured surface, roll dough into a 16-inch square; brush with 3 tablespoons melted butter. Cut in half, making two 8 x 16-inch rectangles. With longest sides of rectangles, fold left and right sides of dough in over centers (letter style) making two 3 x 16-inch strips; pinch long edges to seal. 
Brush tops of strips with reserved egg. On work surface, form two 16-inch long rows of cereal mixture. Turn egg-brushed sides of dough onto cereal and press to coat well; turn cereal-side up.
Cut each strip into 8 equal portions and place (4 x 4) in pan. Lightly spray rolls with nonstick cooking spray. Cover; let rise in warm place (80 to 85°F) until double. 
Preheat oven to 350°F. Bake 20 to 23 minutes, or until golden brown. Remove from pan and serve warm or cool. To serve, peel the layers apart to tuck in a small piece of cheese or meat.
Makes 16 rolls.
Nutrition information per serving:
One roll provides approximately 174 calories; 5 g protein; 24 g carbohydrate; 2 g dietary fiber; 6 g fat (4 g saturated); 37 mg cholesterol; 21 mcg folate; 1 mg iron and 223 mg sodium. 
---