Cream Cheese Spinach & Herb Rolls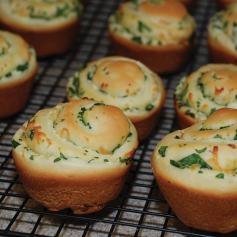 National Festival of Breads 2013 Staff Favorite Award Winner
Kara Bringewatt, Davidson, NC
Ingredients
DOUGH 
½ cup low-fat milk (80° - 85°F) 
½ cup water (80° - 85°F) 
¼ cup canola oil 
1 egg, beaten 
3 ½ cups King Arthur Unbleached All-Purpose Flour 
¼ cup granulated sugar 
1 teaspoon salt 
¼ teaspoon dried thyme leaves 
¼ teaspoon dried oregano leaves 
2 ¼ teaspoons bread machine yeast
FILLING 
6 ounces cream cheese, room temperature 
1 cup packed, finely chopped fresh baby spinach 
1/3 cup finely shredded Italian blend cheese 
Instructions
Place all DOUGH ingredients in the bread machine pan in the order specified by your bread machine manufacturer. Select the DOUGH cycle on your bread machine; check dough after first 5 minutes of mixing. The dough should form a ball around the kneading blade. If dough is too dry, gradually add a few tablespoons of water; if too wet, add a few tablespoons of flour. 
Meanwhile, prepare filling. When cycle is done, remove dough and knead for about 1 minute on a lightly floured surface. Roll dough into a 10 x 18-inch rectangle. 
Spread cream cheese evenly over the dough. Sprinkle spinach and cheese on top of cream cheese. 
Starting at the longer 18-inch side, roll up the rectangle into a log. Pinch the edge to the log so that it won't unroll. Cut the log into 24 pieces, about ¾ inch thick. 
Place rolls into 2 lightly greased 12 cup standard-size muffin pans. Cover; let rise until almost double, 35 to 40 minutes. 
Bake in preheated 350°F oven 12 to 13 minutes or until golden brown. Remove rolls to wire rack; serve warm. Store cooled rolls in an airtight container in the refrigerator for a few days and warm in microwave 15 seconds. Rolls may be frozen and reheated 30 seconds in the microwave. 
Nutrition Information
One roll provides approximately 129 calories; 4 g protein; 16 g carbohydrates; 1 g dietary fiber; 5 g fat (2 g saturated); 17 mg cholesterol; 34 mcg folate; 1 mg iron and 142 mg sodium.
Kansas Wheat Commission Test Kitchen Note: This was the Kansas Wheat Staff's favorite 2013 National Festival of Bread Recipe. Nutrition Educator and National Festival of Bread Chairman Cindy Falk could barely keep enough around for the judges to try.
Additional Notes: Kara was an Honorable Mention winner in the Youth Category for the 2013 National Festival of Breads.
---