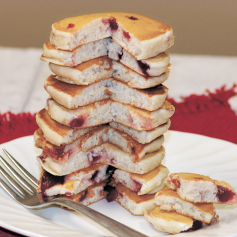 Ingredients
1 ½ cups all-purpose flour
2 tablespoons granulated sugar
1 tablespoon baking powder
¾ teaspoon salt
1 beaten egg
1 cup low-fat milk
3 tablespoons vegetable oil
¾ cup diced, jellied cranberry sauce
Instructions
In medium bowl, sift together flour, sugar, baking powder, and salt. In second bowl, combine egg, milk, and oil. Add liquid ingredients all at once to flour mixture and stir until mixture is smooth. Gently stir in cranberry sauce.
Pour about 1 tablespoonful batter on hot greased griddle. Cook until golden brown on both sides, turning when uncooked side has a bubbled surface. Turn only once. Serve hot.
Makes about 2 dozen griddle cakes
Notes
Nutrition information per serving (one griddle cake): 68 cal, 2 g fat, 9 mg chol, 112 mg sodium, 11 g carbo, 0 g fiber, 1 g pro, 13 mcg folate.
---