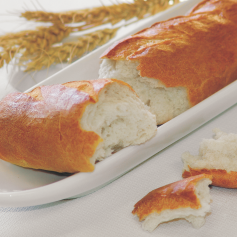 Prep Time: 40
Bake Time: 30
Yield: 2 loaves
Ingredients
3 1/4 - 3 1/2 cups bread flour 
1 package RED STAR® Active Dry Yeast 
1 1/2 teaspoons granulated sugar 
1 teaspoon salt 
1 1/4 cups water (120-130 degrees F) 
1 1/2 teaspoons cornmeal 
1 egg white 
1 tablespoon water
Instructions
Combine 1 1/2 cups flour, yeast, sugar and salt in a mixing bowl. Add warm water; beat on low until blended. Beat 3 to 4 minutes on medium speed. Stir in remaining flour to make a soft dough. 
Knead dough 10 to 12 minutes or until soft and silky. Place dough in a greased bowl, turn to grease top. Cover; let rise in a cool (70 degrees F) place until double (2 to 2 1/2 hours). A cool rise results in the splendid flavor, rise and character of the bread. Punch down dough and let rise again until double. 
Punch down dough again and divide in two. Cover; let rest 10 to 15 minutes. Roll each portion into a 20-inch rectangle or the length of the baking sheet. Roll tightly from the long side and pinch to seal the side and ends. Smooth the loaf and taper the ends. Place loaves seam-side-down on greased baking sheets dusted with cornmeal. Cover; let rise until double. 
Half an hour before baking, start method for creating steam (see test kitchen note below) and preheat oven to 400 degrees F. 
With a very sharp knife, make 4 or 5 diagonal slashes on top of each loaf. Beat egg white and water together until frothy and brush mixture over tops and sides of loaves. Bake 15 minutes, then reduce heat to 375 degrees F and bake another 10 to 15 minutes or until loaves are brown, crusty and hollow-sounding when tapped on the bottom. Cool on wire racks.
Nutrition Information
Per one slice serving: 60 cal, 0 g fat, 0 mg chol, 86 mg sodium, 10 carbo, 0 g fiber, 2 g pro, 31 mcg folate.
Kansas Wheat Commission Test Kitchen Note: The key to crusty breads is steam in the oven. Create steam by placing a pan with 11/2 cups boiling water on bottom rack 10 minutes before putting in the bread. Quickly close the door. Or, using a plant atomizer that has been used only for cooking purposes, spray the hot oven walls with a fine mist. Spray or brush cold water on the bread as well. Slash the loaves and quickly place them in the oven. Spray the loaves 3 times during the first 10 minutes of baking.
---