Cinnamon Swirl Orange Bread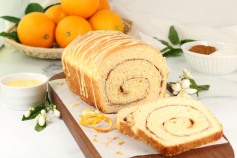 "Sugar 'n spice swirl through the bread, and orange icing adorns the top. This scrumptious vintage recipe from the 1960s was always made by my mother for Christmas gifts to neighbors and friends." — Cindy Falk
Ingredients
Dough
1 (1/4 ounce) package active dry yeast
¼ cup warm water (110°F-115°F)
1 cup whole milk, scalded
½ cup granulated sugar
¼ cup (1/2 stick) unsalted butter
1 ½ teaspoons salt
1 tablespoon grated orange zest
¾ cup orange juice
6 ½-6 ¾ cups bread flour, divided
1 large egg, slightly beaten
Filling
½ cup granulated sugar
1 tablespoon ground cinnamon
2 teaspoons water, divided
Orange Icing
1 cup confectioners' sugar, sifted
1 teaspoon freshly grated orange zest
4-5 teaspoons orange juice
Directions
In liquid measuring cup dissolve yeast in warm water; wait 5 – 10 minutes for mixture to proof.
In bowl of stand mixer fitted with paddle attachment mix milk, sugar, butter, salt, orange zest and orange juice; cool to lukewarm (105°F-115°F.)
Sift flour. Stir in 2 cups flour; beat until smooth. Stir in yeast and egg; beat well. Gradually add enough remaining flour to make a soft dough. 
Exchange paddle attachment for dough hook. Knead 10 minutes. Transfer dough to a large greased bowl. Cover; let rise until doubled, about 1 ½ hours. 
Deflate dough; divide in half. Cover; let rest 10 minutes. 
Roll each half in 15 x 7-inch rectangle, ½ inch thick. Combine sugar and cinnamon. Spread each rectangle with half the sugar mixture. Sprinkle each with 1 teaspoon water; smooth with spatula.
Roll up starting at narrow side, sealing at each turn with fingertips. Seal edge; press down on ends of loaf with sides of hands to make 2 thin sealed strips. Fold strips under loaf as you put it in pan. Place sealed edge down in greased 8 1/2 x 4 1/2-inch loaf pan. Cover; let rise till doubled. 
Near the end of the rise, preheat oven to 350°F. Bake 25 – 30 minutes or until golden brown and internal temperature is 200°F. Cover with foil last few minutes, if necessary, to prevent over-browning. Cool on rack before icing.
To make icing: In small bowl, combine icing ingredients. Drizzle icing on cooled loaves using a spoon, moving it back and forth. 
Yield: 2 medium loaves, 12 servings each. 
NUTRITION INFORMATION PER SERVING (1 SLICE, 79g): 220calories, 25 calories from fat, 3g total fat, 2g saturated fat, 0g trans fat, 15mg cholesterol, 150mg sodium, 43g carbohydrate, 1g dietary fiber, 15g sugars, 5g protein, 73mcg folate, 3mg vitamin C, 2mg iron.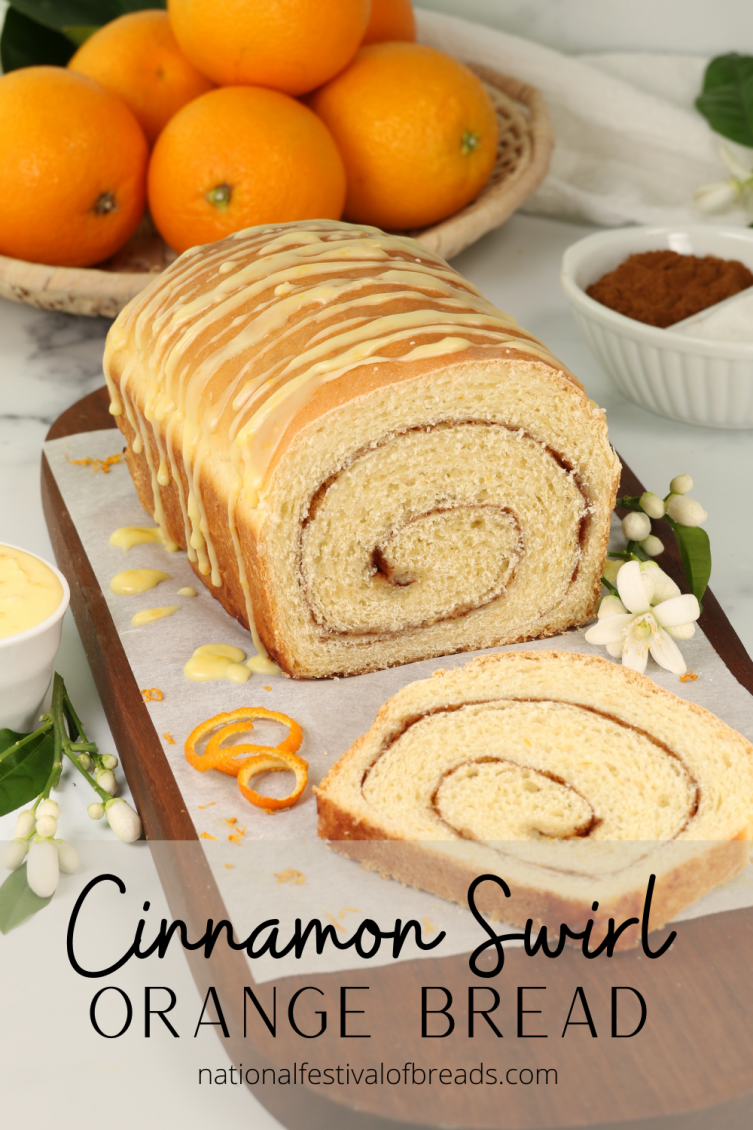 ---