Chocolate Marshmallow Cinnamon Rolls
Marilyn Blankschien, Clintonville, Wisconsin
~~~~~~ 2021 National Festival of Breads Adult Division ~~~~~
Honorable Mention: Sweet Breads and Rolls Category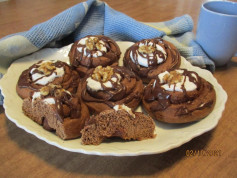 "My recipe inspiration came from my mother. When I was a child, my mother made a chocolate marshmallow cake. Now, I make these rolls for my grandchildren."
Ingredients
Dough
2 ¼ - 2 ½ cups KING ARTHUR® Unbleached All-Purpose Flour, divided
¼ cup unsweetened cocoa powder
¼ cup granulated sugar
¾ teaspoon salt
1 (¼ ounce) package RED STAR® 
Quick-Rise™ Yeast
¼ cup water
½ cup whole milk
3 tablespoons salted butter
1 large egg, beaten
Filling
1 tablespoon salted butter, melted
2 tablespoons granulated sugar
¾ teaspoon ground cinnamon
Topping & Icing
6 large marshmallows, cut in half
¼ cup granulated sugar
2 tablespoons whole milk
1 tablespoon salted butter
¼ cup semisweet chocolate chips
12 English walnut halves
Directions
In large mixing bowl or bowl of a stand mixer fitted with paddle, combine 1 ½ cups flour, cocoa, sugar, salt and yeast. 
Heat water, milk and butter to 120°F - 130°F. Add to flour mixture along with egg. Beat at low speed 2 minutes, scraping down sides of bowl as needed. 
Using dough hook or by hand using a wooden spoon, gradually stir in enough of the remaining flour to form a soft dough. The dough may appear sticky, but avoid adding excess flour. It becomes less sticky as it rises. 
Knead 8 - 10 minutes with dough hook or on lightly floured surface until smooth and elastic. Transfer dough to greased bowl, turning to grease top. Cover; let rise in warm place until almost doubled, 35 - 45 minutes.
On a nonstick surface or very lightly floured surface, roll dough into a 10" x 12" rectangle. Brush with melted butter keeping it ½" from one 10" side. In a small bowl, stir together 2 tablespoons sugar and cinnamon. Sprinkle evenly over the buttered area. Starting at buttered 10" side, tightly roll dough; pinch seam to seal. Cut into 12 even slices and arrange cut-side down on parchment-lined cookie sheets, keeping them at least 2" apart. Flatten rolls slightly by pressing down, making them about ⅝" thick. Cover; let rise in warm place until almost doubled, about 40 - 45 minutes. 
Near the end of the rise, preheat oven to 375°F. Bake until rolls just begin to brown, about 10 minutes. Remove from oven. Immediately place one-half marshmallow, cut-side down, in center of each roll. Return rolls to oven 2 minutes or until marshmallows are puffed and softened.
Remove from oven and flatten marshmallows slightly with back of large, metal spoon. Remove rolls to cooling rack.
For icing: In small saucepan combine sugar, milk and butter. Place over medium heat and bring to boil, stirring constantly. Cook and stir 1 minute longer. Remove from heat and stir in chocolate chips. Stir until smooth. Add about ¼ teaspoon of warm water at a time until drizzling consistency; drizzle over warm rolls. Top rolls with walnut halves.
Yield: 12 rolls.
NUTRITION INFORMATION PER SERVING (1 ROLL, 75g): 240 calories, 80 calories from fat, 9g total fat, 5g saturated fat, 0g trans fat, 30mg cholesterol, 210mg sodium, 38g total carbohydrate, 2g dietary fiber, 16g sugars, 5g protein, 52mcg folate, 0mg vitamin C, 2mg iron.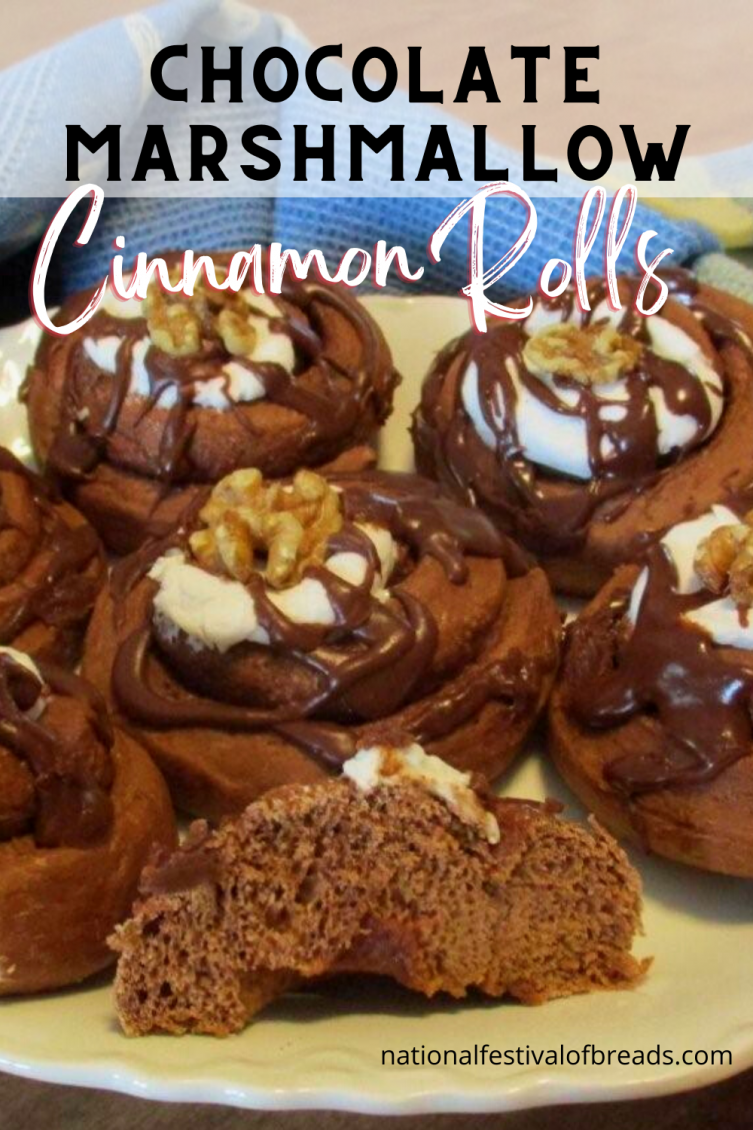 ---