Celebration Cupcakes with Sweet Champagne Frosting
Looking for something to give your next celebration a little POP? Look no further than our Celebration Cupcakes with Sweet Champagne Frosting.

We loved the bright colors of these cupcake wrappers. Festive!

It makes for an incredibly creamy, and sweet, batter.

If you're feeling super celebratory, add in come sprinkles!

Here are the cupcakes right out of the oven... Cupcake oven mitts are optional. 

Now it's time for the frosting!

While the alcohol in the champagne does bake out in the cupcakes, the frosting doesn't go through that process, so this is definitely not a recipe to serve to minors!

The recipe didn't even use the whole bottle of champagne, so have other ideas for the leftovers! 

Cupcakes
Ingredients
1 (16.5-ounce) box dry vanilla cake mix
3 large egg whites
1 cup sparkling champagne, room temperature
1/3 cup vegetable oil
1 tablespoon colored sprinkles (optional)
Instructions
Preheat oven to 350° F. Line two standard-size muffin pans with  24 paper cupcake liners.
Blend cake mix, egg whites, champagne, and oil in a large bowl at low speed until moistened (about 30 seconds).
Beat at medium speed for 2 minutes.
Fold in sprinkles. (optional)
Pour batter in pans and bake 17-20 minutes. Cupcakes are done when toothpick inserted in center comes out clean.
Cool completely then frost with Sweet Champagne Frosting.
Kansas Wheat Commission Test Kitchen Note
Folding in colored sprinkles gives cupcakes a confetti-like appearance.
Sweet Champagne Frosting
Ingredients
3 cups confectioners' sugar
7-ounce container  marshmallow crème
½ cup butter-flavored shortening
½ teaspoon vanilla
½ cup sparkling champagne, room temperature
Instructions
With an electric mixer, blend together confectioners' sugar, marshmallow crème, shortening, and vanilla.
Add enough champagne to reach desired frosting consistency.
Use a spreader or decorative tip to frost cooled cupcakes.
Kansas Wheat commission Test Kitchen Note
Cupcakes will need to be kept in a refrigerator or cool place after frosting them because frosting tends to droop if left at room temperature for very long.
Makes 24 cupcakes.
One cupcake (using three egg whites rather than whole egss) provides approximately 192 calories; 1 g protein; 23 g carbohydrates; 0 g dietary fiber; 7g fat (1 g saturated); 0 mg cholesterol; 0 mcg folate; 0 mg iron and 372 mg sodium.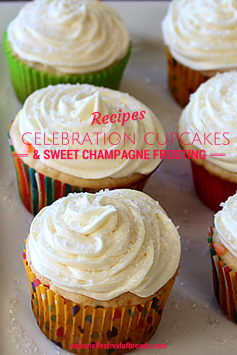 ---