Buttermilk Wheat Berry Bread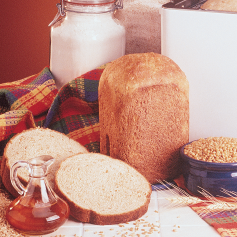 Steve Korthanke, Robinson, Kansas, created this 1995 Kansas "Festival of Breads" Champion recipe, using Kansas Hard White wheat berries.
Ingredients
1 ½ cups water (80°F) 
5 tablespoons dried buttermilk 
3 tablespoons honey 
3 cups whole wheat flour* 
¾ cup bread flour 
½ cup cooked wheat berries
2 tablespoons vital wheat gluten 
1 ½ teaspoons salt 
1 ½ tablespoons butter 
1 ½ teaspoons RED STAR® Bread Machine Yeast
*For a milder flavor and golden color, use whole white wheat flour and berries (kernels).
Instructions
Add ingredients to bread machine pan in the order suggested by manufacturer. Recommended cycle: whole wheat cycle (longest setting) and light color setting, if available. Time bake feature may be used. 
To cook wheat berries (kernels): Place ½ cup clean, uncooked wheat berries in small saucepan; cover with two cups water. Let stand overnight. Simmer, stirring occasionally, 30 to 45 minutes or until berries are tender. Rinse with cold water; drain thoroughly. Place cooled berries in sealable bag and store in the refrigerator. Use as needed. Berries will keep up to one week in the refrigerator. 
Or, bring berries and water to a boil. Cover, reduce heat and simmer 60 to 90 minutes, stirring occasionally, until water is absorbed and berries are tender.
Makes 1 (1 ½-pound) loaf, 16 slices.
Notes
Nutrition information per serving (one slice): 149 cal, 2 g fat, 5 mg chol, 233 mg sodium, 29 g carbo, 4 g fiber, 5 g pro, 21 mcg folate.
---