Buttermilk-Scallion Flatbreads
2015 National Festival of Breads
Special Award: Best Recipe Using White Whole Wheat Flour
Sponsored by Farmer Direct Foods
Jennifer Beckman, Falls Church, Virginia
"This flatbread recipe evolved from a yogurt Naan recipe. I started substituting white whole wheat flour for part, and then all, of the white flour. I experimented with different herbs and dairy products, finally landing on the family favorite buttermilk-scallion combination. It's the perfect recipe that's ready in about an hour and goes great with soup."
Yield:  8 flatbreads, 16 servings.
Ingredients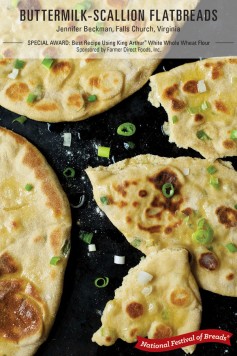 ¼ cup (2 ounces) warm water (110°-115°F)
½ teaspoon granulated sugar
1 (¼ ounce) package RED STAR® Quick·Rise™ Yeast
3 to 3 ¼ cups (13 ounces to 14 ounces) King Arthur White Whole Wheat Flour
1 ½ teaspoons (¼ ounce) kosher salt
5 tablespoons (2 ½ ounces) unsalted butter, melted, divided
2/3 cup (5 ounces) buttermilk, room temperature
1 large egg, lightly beaten
½ cup (1 ¼ ounces) finely diced scallions, white and green parts
Vegetable oil
Directions
Whisk together water, sugar, and yeast in a glass measuring cup and wait 5 to 10 minutes for mixture to foam (proof).
In the bowl of a stand mixer fitted with dough hook, combine 3 cups white whole wheat flour and salt. Add yeast mixture, 3 tablespoons melted butter, buttermilk, and egg; beat on low speed 2 minutes. Scrape bowl as needed.
Knead on medium speed 2 to 3 minutes, until smooth and elastic, adding flour as needed to form a soft dough that cleans the sides of bowl. Knead the scallions into the dough. Place dough in a greased bowl, cover with plastic wrap, and let rise until doubled, 30 to 40 minutes.
Preheat a large skillet or a 2-burner griddle, preferably cast iron, over medium-low heat 5 to 6 minutes. Lightly oil skillet, wiping away excess with a paper towel.
Divide dough into 8 equal pieces. Shape each piece into a ball, and roll into a 6" to 8" round, about ¼" thick. Working in batches, transfer the dough rounds to the hot skillet.
Cook one side until bubbly, 1 to 1 ½ minutes, then flip and cook second side until lightly golden, about 1 to 1 ½ minutes. If the flatbreads are not bubbling, adjust the heat.
Lightly brush one side of flatbreads with remaining melted butter; remove to a platter and cover. Serve warm.
Nutrition Information Per Serving (½ flatbread, 48g): 130 calories, 4.5g fat, 3g fiber, 2.5g saturated fat, 0g trans fat, 19g carbohydrates, 20mg cholesterol, 200mg sodium, 4g protein, 1mg vitamin C, 1mg iron, 17mg calcium.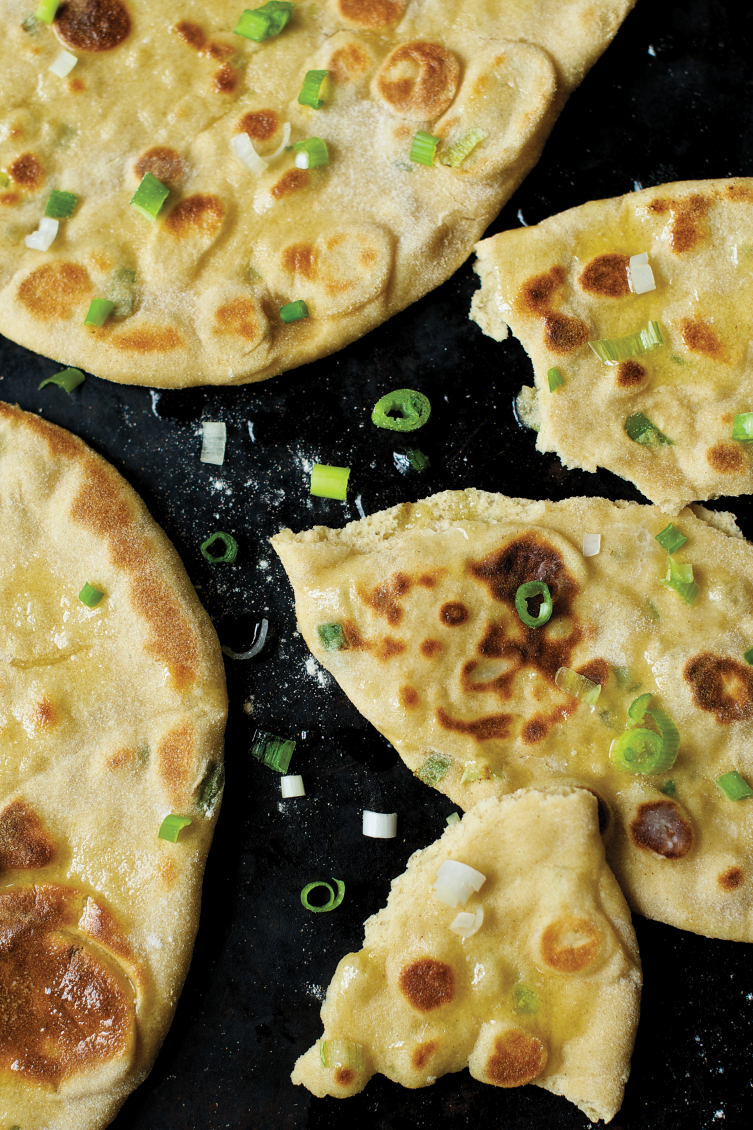 ---