Bulgur Sloppy Joes or Chili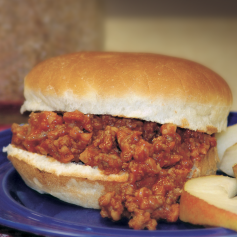 Bulgur is parboiled, dried and partially debranned wheat, rich in protein, thiamine, riboflavin and niacin, the nutrients found in whole grain wheat. 
Prep Time: 1 hour
Bake Time: 30 minutes
Yield: 14 1/3 cup servings
Ingredients
1 pound extra lean ground beef, pork, turkey
½ cup chopped onion
⅓ cup bulgur wheat, dry
2 teaspoons chili powder
¼ teaspoon black pepper
1 (14-ounce) can beef broth
1 (15-ounce) can tomato sauce
2 cups water (optional)
Instructions
Brown meat in skillet with onion and bulgur; drain. Add chili powder, pepper, beef broth, and tomato sauce. Stir in water if making chili.
Cover; simmer at least 30 minutes. More water may be added depending on desired consistency. Serve on buns or in bowls.
Nutrition information per serving (½ cup Sloppy Joe mix using extra lean [9% fat] beef and fat free, no salt beef broth): 116 cal, 4 g fat, 17 mg chol, 330 mg sodium, 8 g carbo, 2 g fiber, 2 g pro, 12 mcg folate. 
Kansas Wheat Commission Test Kitchen Note: This mixture can also be used for tacos, taco salads and nachos. 
Variations: Substitute lean sausage, ground turkey or ground pork for part of the beef. 
This recipe freezes well.
---