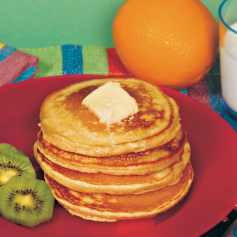 KWC Spokesperson Lois Keller's grandchildren call these "Brown Pancakes."
Ingredients
1 ¼ cups whole wheat flour
1 teaspoon baking soda
⅛ teaspoon salt
1 cup low-fat milk
1 tablespoon vinegar
1 tablespoon vanilla extract
¼ cup margarine or butter, melted
1 tablespoon honey
1 beaten egg
note: 1 cup low-fat buttermilk can be used in place of 1 cup milk and vinegar. 
Instructions
In medium bowl, stir together whole wheat flour, baking soda, and salt.
To sour milk, combine milk and vinegar; let stand 5 minutes. In small bowl, using a fork, blend together sour milk, vanilla, margarine or butter, honey, and egg.
Stir milk mixture into dry ingredients and mix until smooth.
Grease skillet or griddle and preheat. Pour ¼ cup batter on hot skillet or griddle.
Turn pancakes when bubbles appear and cook until lightly browned.
Makes 8 (4-inch) pancakes.
Nutrition information per serving (one pancake): 145 cal, 6 g fat, 28 mg chol, 274 mg sodium, 18 g carbo, 2 g fiber, 4 g pro, 11 mcg folate.
---