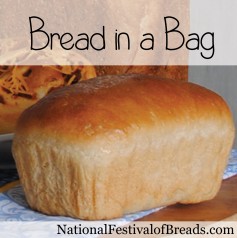 ½ c. bread or all-purpose flour
1 pkg. fast-rising dry yeast (2 ¼ tsp.)
2 Tbsp. granulated sugar, divided
½ c. very warm water (120°-130°F.)
2 c. white whole wheat flour or whole wheat flour 
1 Tbsp. vegetable oil
2 tsp. salt
¾ c. very warm water (120°- 130°F.)
1-1½ c. bread or all-purpose flour
Allow 2 to 2 ½ hours for activity.  In a heavy-duty, 2 gallon sealable bag, mix bread flour, yeast and 1 Tbsp. sugar.  Check water temperature with thermometer; add ½ cup water to bag. 
Close bag. Work bag with fingers until mixture is blended; let rest 15 min.
To bag, add 1 tablespoon sugar, whole wheat flour, oil, salt and ¾ cup water.  Slowly add enough flour to form dough that pulls away from side of bag. 
On floured surface, knead dough 5 minutes. Dough should be slightly sticky. Too much flour will make bread low-volume and dry.     
Divide dough into thirds; cover with bag and let rest 10 to 15 minutes. Spray three disposable 5 x 3-inch mini loaf pans with nonstick cooking spray.
Pat dough into 6 x 4-inch rectangle. Beginning at short end, roll up tightly like sleeping bag. Pinch the edge forming a seam. Pinch edges and ends to seal.  Place dough, seam-side down, in pans. Mark each pan with child's name.
 Place pans two inches apart on baking sheet. Cover loosely with plastic wrap; let rise until doubled, about 35 minutes.  
Bake in preheated 350°F convection oven 15 to 18 minutes or 375°F conventional oven 23 to 25 minutes, or until golden.  Immediately remove from pans; cool on wire rack. 
Yield:  3 mini-loaves, eight slices each                         
EACH SERVING   About 91 calories, 3 g protein, 17 g carbohydrate, 2 g dietary fiber, 1 g total fat (.12 g saturated fat), 0 mg cholesterol, 22 mcg folate, 1 mg iron, 198 mg sodium
---