Blueberry-Lemon Wheat Rolls
Pam Correll, Brockport, Pennsylvania
Ingredients
1/3 cup warm water (110°F - 115°F)  
1 (¼ ounce) package RED STAR® Active Dry Yeast
¼ cup, plus ½ teaspoon granulated sugar
1 cup King Arthur® White Whole Wheat Flour
1 tablespoon vital wheat gluten
½ cup milk (110°F - 115°F)
½ teaspoon salt
1 large egg, beaten
1 teaspoon finely grated lemon zest
2 teaspoons fresh lemon juice
3 tablespoons unsalted butter, softened
1 ½ - 1 ¾ cups King Arthur® Unbleached Bread Flour
BLUEBERRY FILLING
¼ cup unsalted butter, softened
½ cup granulated sugar
2 teaspoons finely grated lemon zest 
2 tablespoons King Arthur® Unbleached Bread Flour
2 cups fresh blueberries, rinsed and patted dry
LEMON GLAZE
1 tablespoon unsalted butter, melted
½ cup confectioners' sugar
1 tablespoon fresh lemon juice
2 teaspoons finely grated lemon zest
Directions
For the dough: In bowl of a stand mixer fitted with paddle, combine water, yeast and ½ teaspoon sugar. Wait 5 - 10 minutes for it to foam (proof). 
Add white whole wheat flour, gluten, milk, sugar, salt, egg, lemon zest and lemon juice. Mix at low speed 2 minutes. 
Beat in butter and enough bread flour to make a soft dough. Switch to dough hook and knead 8 - 10 minutes at medium-low speed. Transfer dough to a greased bowl, turning once to coat. Cover; let rise until doubled.
For the filling: Beat together butter, sugar, lemon zest and flour to form a paste. 
Roll dough into a 16" x 12" rectangle. Spread filling over dough and top with blueberries. Beginning with 16" edge, tightly roll dough into a log and pinch to seal.  With a sharp knife, slice the roll into 12 pieces and place into a greased 13" x 9" baking pan. Cover; let rise until nearly doubled.
Towards the end of the rise, preheat oven to 350°F. Bake 24 - 28 minutes, or until lightly browned and internal temperature registers about 210°F. Place on a cooling rack. Cool slightly.
For the glaze: Whisk together butter, confectioners' sugar and lemon juice. Drizzle over warm rolls. Sprinkle lemon zest over the rolls.
Yield: 12 rolls.
Nutrition Information Per Serving (1 ROLL, 107g): 289 calories, 6g protein, 47g carbohydrates, 3g dietary fiber, 9g fat, 5g saturated fat, 0g trans fat, 35mg cholesterol, 57mcg folate, 110mg sodium, 4mg vitamin C, 2mg iron, 20mg calcium.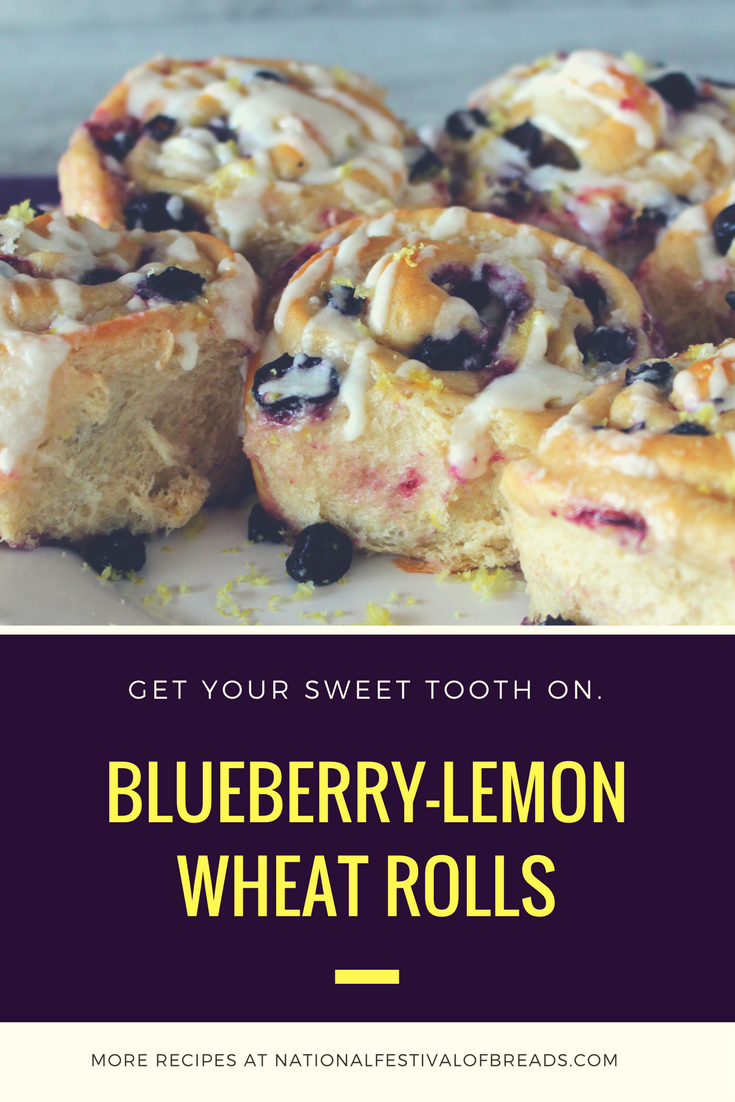 ---