Bacon Mac & Cheese Sprouted Wheat Rolls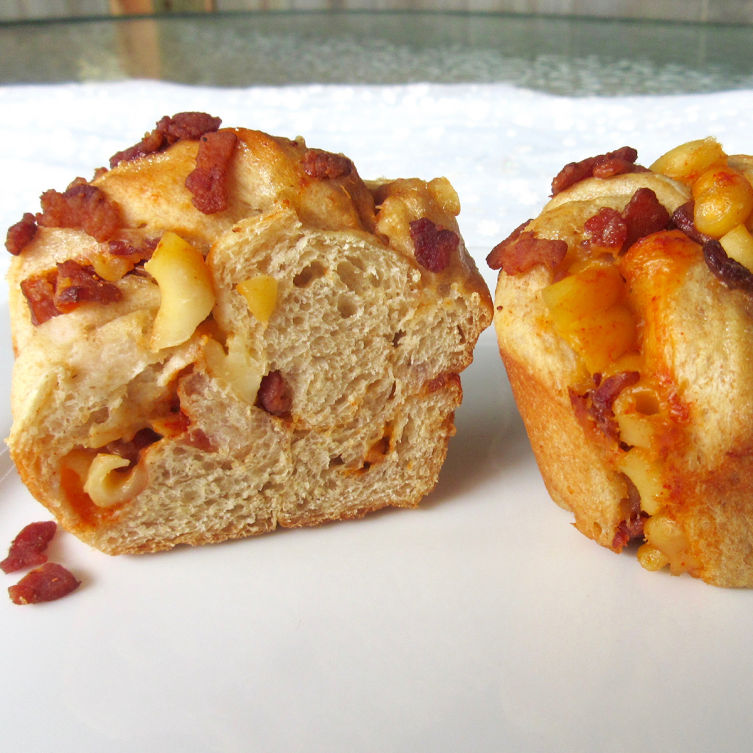 "While listening to someone rave about Bacon Mac & Cheese, I wondered if I could incorporate those great flavors and textures into a yeast bread. With their soft, tender dough and fragrant, unique appearance, they are sure to capture everyone's attention and taste buds."
Patrice Hurd, Bemidji, Minnesota
SPECIAL AWARD: TEST KITCHEN SPOTLIGHT
BEST RECIPE USING PORK
Sponsored by Kansas Pork Association
INGREDIENTS
DOUGH, made in a bread machine
2/3 cup lukewarm water, 80°F
1 large egg yolk, reserve white for egg wash
2 tablespoons unsalted butter, softened
3 tablespoons granulated sugar
½ teaspoon fine sea salt
2 tablespoons instant potato flakes
2 tablespoons nonfat dry milk
1 tablespoon vital wheat gluten
1 cup King Arthur® Unbleached Bread Flour
1 cup King Arthur® 100% Whole Grain Sprouted Wheat Flour
1 (1/4 ounce) package RED STAR® Platinum Superior Baking Yeast®
FILLING
6 slices thick-cut smoked bacon, chopped in ½" squares
¼ teaspoon liquid smoke
2 teaspoons adobo sauce
1 teaspoon smoked sweet paprika
1 cup prepared macaroni and cheese, deli or refrigerated, room temperature
DIRECTIONS
Place all dough ingredients into a bread machine pan in order listed and set on DOUGH cycle. Add additional water or flour if needed to form a soft dough.
Cook bacon until crisp. Drain bacon using a wire mesh strainer; return bacon to skillet and stir in liquid smoke. Reserve 2 tablespoons bacon for topping.
Place macaroni and cheese on a cutting board; using a knife, cut through macaroni a few times and set aside.
Grease cups of a standard size 12-cup muffin pan, 2 ¾" wide x 1 ¼" deep.
Turn dough out onto a lightly floured surface; deflate and roll into a 12" x 12" square. On the bottom half of the square, spread adobo mixture to within ½" of edges; spread macaroni and cheese then bacon over adobo. Fold top of dough down over filling; seal edges.
Cut into twelve 1" strips. Hold one edge of strip down and twist 3 times. Coil into a roll, tucking ends under and place into muffin cup. Repeat with remaining strips. Cover; let rise until doubled, about 45 minutes.
Toward the end of the rising time, preheat the oven to 350°F. Whisk reserved egg white with 1 tablespoon water; brush over rolls and sprinkle with reserved bacon. Bake 18 - 20 minutes until golden; cool in pan 5 minutes then run knife around edges. Remove from pan; serve warm.
Yield: 12 rolls.
NUTRITION INFORMATION
PER SERVING (1 ROLL, 74g): 190 calories, 70 calories from fat, 8g fat, 3.5g saturated fat, 0g trans fat, 35mg cholesterol, 590mg sodium, 23g total carbohydrates, 2g dietary fiber, 4g sugars, 8g protein, 29mcg folate, 1mg vitamin C, 67mg calcium, 1mg iron.
---