Apple & Bacon Cranberry Cheese Bread Stuffing
KWC Test Kitchen staff, Julene DeRouchey and Cindy Falk designed a delicious stuffing featuring the 2015 National Festival of Breads champion bread recipe. 
"Smokehouse Cranberry Cheese Bread plus some aromatics, a little bacon, and a Granny Smith Apple makes a great combination in this winning stuffing recipe," said Falk. The bread has its own bold flair with dried cranberries, gouda cheese and black pepper. The bacon adds protein and essential flavor. 
Ingredients
1 loaf (about 1 ½ lbs.) Smokehouse Cranberry Cheese Bread *
8 ounces bacon, coarsely chopped
1 ½ cups onion, medium dice
1 ½ cups celery with leaves, medium dice
1 teaspoon poultry seasoning
1 teaspoon dried parsley
½ teaspoon dried sage
2 large eggs, beaten
1 large unpeeled Granny Smith apple, medium dice
3 – 3 ¼ cups low-sodium chicken broth or turkey stock, warmed
*Recipe can be found at www.NationalFestivalofBreads.com
Directions
Tear or cut bread into 1" pieces and pack loosely to make about 11 cups. Preheat oven to 350°F. 
In a 3 to 4-quart dutch oven or large skillet, saute chopped bacon, onion and celery. Stir often until bacon is just beginning to brown. 
In a very large bowl, combine bread, poultry seasoning, parsley and sage. Stir in beaten eggs. 
Add bread mixture to dutch oven with bacon mixture; stir in diced apple.  
Fold gently until thoroughly combined, adding enough broth or stockas needed to ensure bread is fully moist. The amount of liquid will depend on the dryness of the bread. If you do not have a dutch oven, transfer stuffing to a greased 3 to 4-quart baking dish or 13 x 9x 2-inch baking dish and cover with greased foil. 
Bake in dutch oven with lid on for 30 minutes. Remove lid or foil and bake an additional 15 minutes or until top is well browned and a paring knife inserted into the center comes out hot. An instant-read thermometer inserted into the center of stuffing registers 165°F. Let sit 10 minutes before serving. 
Yields: 20, ½ -cup servings. 
NUTRITION INFORMATION PER SERVING (1/2 CUP, 176g): 230 calories, 11gfat, 2 g fiber, 5g saturated fat, 0g trans fat , 22g carbohydrates, 70mg cholesterol, 340 mg sodium, 10g protein, 6mg vitamin C, 1mg iron, 66mg calcium.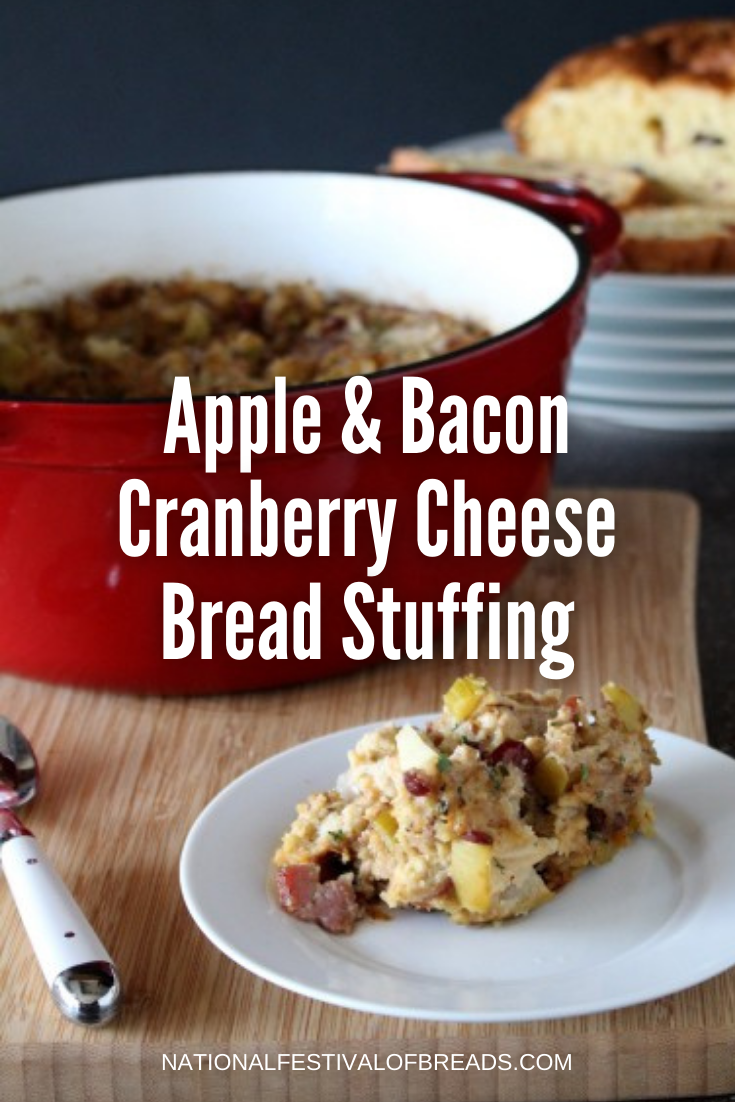 ---