Zesty strawberry lemonade swirls win youth People's Choice Award at the 2021 National Festival of Breads
September 22, 2021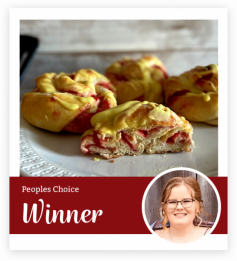 Homemade red strawberry jam is layered in between lemon-flavored dough and shaped in an attractive swirl. Maggie Sleichter's
Strawberry Lemonade Swirls
caught the eye of online voters, who selected her recipe as the youth People's Choice winner for the 2021 National Festival of Breads. 
Sleichter's recipe was inspired by a trip with her grandmother to the 2019 National Festival of Breads, held in person in Manhattan, Kansas. The taste of the Beetroot Amaretto Rolls — one of the 2019 finalist recipes — stuck out to the pair, so they re-created the recipe at home but twisted the recipe into a swirl shape. 
Two years later, her mother pointed out the 2021 contest was virtual, and Sleichter should consider entering. That night at her work in a local grocery store in Clay Center, Kansas — Sleichter's hometown — she thought about how strawberry lemonade was one of her favorite flavors, but she had not seen it in a roll recipe — and why not use that swirl shape that had worked so well before? 
"I like the uniqueness of the shape because it looks like it's really complex, especially because in some of the pictures we have it looks like it's a lattice pie crust, but it was really just twisted in a spiral," she said. "But then, the flavor is a unique combination for breads. You either get something strawberry banana or you get lemon blueberry, not strawberry lemonade." 
Sleichter started baking with her grandmother and other family members through the 4-H Foods Project. One of her pieces of advice for youth bakers like herself is to just keep trying, recounting how she once made her recipe for the county fair seven times in one week, and the end product ended up earning the Grand Champion prize. 
"There were really just little things that were off each time like an egg wash not getting fully mixed well," she said. "So it was just a lot of trial and error."
She applied that same process to building her original recipe entry for the National Recipe of Breads. Sleichter used a specific sugar substitute in her recipe — Truvia — because her own body does not process sugar normally, and one of her sisters is allergic to aspartame. She also used KING ARTHUR® All-Purpose Flour and RED STAR® Quick-Rise Yeast for her recipe, which received top scores for taste and quality. She cautioned home bakers trying out her recipe to carefully watch the strawberry jam reduction and use just the right amount of lemon. 
"One of the biggest tips is to make sure you smash the strawberries down to really small pieces because it will help it cook faster and solidify better," she said. "If you are using a wooden spoon and swipe through the middle of it if you can see the bottom of the pan, then you can tell it's definitely ready. Also, make sure not to overdo it on the lemon extract because a little bit goes a long way." 
Sleichter also recommended making sure the bread is placed in a warm spot to rise, remembering that she was baking versions of her recipe during the Arctic freeze in February 2021. Because her whole house was cold, she sat loaves to rise on top of a wood-burning stove in the basement. 
All her hard work paid off on June 9 when she was selected as the youth People's Choice winner for the 2021 National Festival of Breads, based on online votes in May 2021. She made sure to take her box of prizes to her grandmother to help unwrap them — continuing the tradition of sharing and celebrating baking bread together that is the spirit of the festival.
Including Sleichter, recipes submitted by three adults and two youth finalists — representing states from coast to coast — were hand-picked to be featured during this year's virtual festival. Find the recipe for Strawberry Lemonade Swirls, learn more about the other finalists and see more about the contest at www.NationalFestivalofBreads.com. 
###
Written by Julia Debes for Kansas Wheat
---