Youth finalist brings bistro flavors to the 2021 Virtual National Festival of Breads
September 22, 2021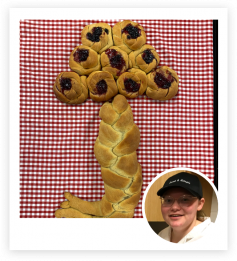 As a high school senior in Wamego, Kansas, Madee McKee helped create the "Sweet and Simple" coffee shop as part of an internship class in the Family and Consumer Sciences Department. The shop featured coffee, pastries, breakfast creations and breads — all to go.
"Me and a bunch of my culinary buddies, we all work together, and we came up with a bunch of different recipes, and it's really fun," McKee said. "I've been in culinary classes since I was a freshman. I took it my first semester and I just fell in love with the class, so I've taken it every semester since then."
As she developed recipes for teens, she modified a traditional white bread recipe using a technique she learned in a Baking and Pastry Internship Class. She added coffee because of the bistro and tried out jams and jellies until she found her favorite — blueberry jam.
"With the addition of buttermilk, honey and dark expresso to the ingredient list, it gave my recipe that morning twist of sweet coffee to start my day," McKee said. "Enjoy!"
The result was Blueberry Blossom Tree Braids — her entry in the 2021 Virtual National Festival of Breads. The creative sculpture and well-written instructions earned her a spot in the June 9 event as the winner of the Creative Bread Shape category of the Youth Division.
The dough recipe includes KING ARTHUR® All-Purpose Flour and RED STAR® Platinum Yeast. The dough is separated into 18 even rolls, each of which is rolled into a log and twisted together to form a blossom. Each blossom features a dollop of blueberry jam in the center, which the evaluators said gave the design even more visual impact — and made the bread even tastier.
"I think the shape pushed it over the edge by just how cute it was," McKee said. "I've never really seen a tree done before with a braid, so I just thought it up in my head and made it."
She suggested bakers trying her recipe should make sure to let the dough proof overnight in the refrigerator, which she finds easier than waiting all day to bake the bread. She also suggested waiting to put the jam on just before putting the bread in the oven, so the dough doesn't continue to rise and cause the jam to slide off the blossom.
McKee plans on continuing to hone her baking skills at Kansas State University in the bakery science program. She will continue, however, to make time to bake with her grandparents, who continue to serve as her biggest baking inspirations.
"I bake to keep up family traditions," she said. "My grandma always talked about how she would bake with her grandma. And so, it's just kind of tradition for all of us to just bake together. And I find it so much fun."
Including McKee, recipes submitted by three adults and two youth finalists — representing states from coast to coast — were hand-picked to be featured during this year's virtual festival. Find the recipe for Blueberry Blossom Tree Braids, learn more about the other finalists and see more about the contest at www.NationalFestivalofBreads.com.
###
Written by Julia Debes for Kansas Wheat
---