June 5, 2015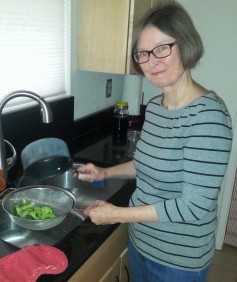 Meet Mary Hawkes and her Cheddar 'N' Chiles Accordion Bread.
Most ten-year-olds would ask their parents for the latest and greatest toys, but not Mary. Growing up, Mary Hawkes, currently of Prescott, Arizona, would ask her parents to buy ingredients to experiment with. Even though neither of her parents were interested in baking, she would whip up concoctions that sparked her interest from cookbooks around the house, sometimes with mixed results.
"I remember trying to bake breads by myself," said Hawkes. "As a child I wasn't too successful!"
As Mary grew older and received an allowance, she vividly remembers that one of her very first purchases was a cookbook of her own, which she still has today. Even though the pages are worn Hawkes still uses a variation of a raisin-oatmeal cookie that was printed in that book.
"That's where my love of creating food came from," said Hawkes. "Baking is so creative and therapeutic, and I love the challenge of it."
After years of test baking and developing her skills, Mary has the art of baking down to a science.
"Baking is part chemistry, so pay attention to the proportion of ingredients," Mary said.  "If you don't get the dry to wet ingredient ratio correct the product won't turn quite right. "
Hawkes put her experiences to work while developing her Cheddar 'N' Chilies Accordion Bread, a recipe inspired by her southwestern home.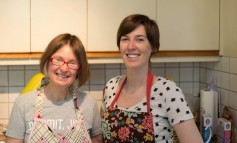 "I find that I incorporate a lot of regional ingredients into the food I create," said Hawkes. "It's just part of my culinary pantry. I really like cheddar and chilies, and I loved the way the bread turned out after the second or third try!"
Venture to Manhattan, Kansas to meet Mary, and to taste her delightful Cheddar 'N' Chilies Accordion Bread on June 13th at the National Festival of Breads. 
Finalist Facts
While she loves baking her Cheddar 'N' Chilies Accordion Bread, her favorite thing to bake is an Orange Sweet Roll. The sweet and citrus flavors blend well for this delightful baked good.
While Mary developed her baking skills on her own, she passed her passion for baking on to her daughter. "She's just now starting to explore cooking and baking," said Hawkes. "But I am so excited to see where it goes for her!"
One tool that Mary can't live without is her KitchenAid stand mixer. While she enjoys kneading every now and then, she admires the thorough job that the mixer does for her dough. To win a KitchenAid mixer of your own, be sure to come to the National Festival of Breads and register for doorprizes!
---