Teaching Future Bakers: Meet Pam Correll
May 12, 2017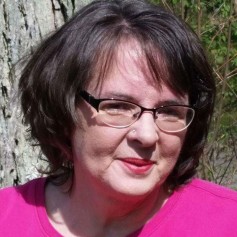 Between work and personal life, Pam Correll from Brockport, Pennsylvania, gets her fair share of baking in every day. Correll is a family and consumer science teacher for both high school and junior high, so much of her days is spent teaching students how to bake, and then taking those skills back to her own home.
"One of the classes I teach is a baking class and it's just really fun to teach them how to bake from scratch because that's kind of a lost art with people. That's what they pay me for and I love it," Correll says.
Correll's love for baking stems from her mother, who was an avid baker growing up. She recalls waking up on the weekends and her mom having fresh baked goods made for the family with the enticing smell hitting them as they walked down the stairs.  
"My mom was always a baking from scratch kind of girl. She'd get up every Saturday morning and make the bread for the week and some Kolaches, so that's really where I got my love of baking," Correll says.
Correll's baking hobby began when she was around 10 years old, and she says between the smell and the excitement, she has a strong passion for home baking.
"Baking is very homey and relaxing. It's kind of like my happy place. One of the questions asked with my recipe was if I used a Kitchen Aid or kneaded it by hand, and I just like that hands-on part of it. I'm sort of old fashioned in that way. I feel like there's more of me in it if I can knead it by hand," Correll says.
Because of Correll's strong love of baking and the influence it plays in her life, it was only fitting for her to enter the National Festival of Breads. Her recipe, Orange Marmalade Breakfast Crescents, which is one of the finalists in the rolls category, was taken from one of her mom's Kolache recipes.
Correll says that she likes to take a base recipe of some kind and put her own twist on it to make it her own. She says that she loves breakfast buns along with the intense flavor of orange marmalade and orange zest, which is why she came up with the recipe.
"You get a little bit of orange in every single bite; it's not just a subtle flavor. There's orange in the dough, there's the orange marmalade wrapped up in it, there's orange glaze and orange zest. It's completely orange throughout the whole thing," Correll says.
This is Correll's second time entering the NFOB. In 2015, she won two honorable mentions for her recipes, Whole Wheat Blueberry Lemon Breakfast Buns and Belgian Sugar Loaf.
Correll says the whole National Festivals of Breads contest excites her because of not only the baking portion, but all the things she will be able to do while she is here.
"I'm excited obviously for the contest itself, but also being able to go into the wheat field and seeing the mill. The whole thing just sounds like an awesome trip," Correll says.
by Hannah Schlapp, Kansas Wheat Communications Intern
---