Salina librarian deciphers Kansas history from flour sacks
June 2, 2015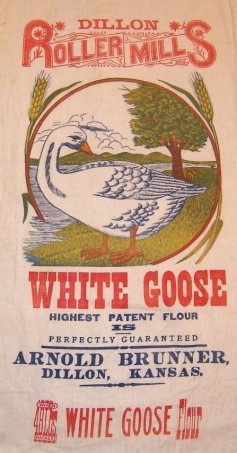 By day, Nancy Jo Leachman works as an information services librarian at the Salina Public Library. But, on the very best days, she puts those reference skills to work on her true passion – deciphering lessons on politics, advertising trends, marketing schemes and even nutritional promotion from a very unexpected source. Flour sacks are the "mini-billboards of their time," Nancy Jo said, and each has a story to tell from supporting war efforts to local pride. 
"I have a research oriented brain," she explained. "It gives me the mindset to see the potential – there is history there."
Nancy Jo can glean a lot more than just a mill name and location from a flour sack, most of which in her collection date to the 1920s through 1940s. For example, the word "enriched" was not used until after 1941 and the weight of the bag – printed on the label – changed in 1943 from a weight system based on barrels of flour to one based on pounds. 
But, the most important element of a flour sack, according to Nancy Jo, is "the beautiful artwork and advertising." And those images and taglines provide valuable clues into the flour sack's greater story. 
For example, one of Nancy Jo's sacks from Wilson, Kansas, features a Blue Eagle. The Blue Eagle was created by the 1933 Time Man of the Year (and Kansan) Hugh Johnson, the CEO of the National Recovery Administration, part of the New Deal. In 1935, the U.S. Supreme Court abolished the Blue Eagle and its future use as a symbol was prohibited. However, the Blue Eagle's influence is still seen today in form of the NFL team it inspired in 1933 – the Philadelphia Eagles.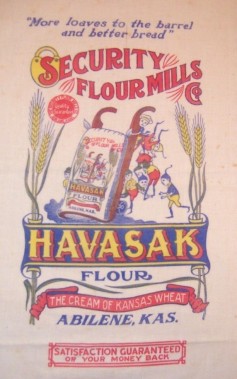 In total, Nancy has 140 unique flour sacks, each with their own history lesson to share. She is an official flour sack picker, scouring eBay, antique stores, yard sales and flea markets for her next great flour sack. Her presentation at the National Festival of Breads will be her 64th program on flour sacks and Kansas history. 
"At first I did not look up anything, and then I looked up everything," she said about the evolution of her flour sack history research. "My presentation is the Kansas history I learned from looking up every word and every image."
Have a cloth flour sack and want to know its history? Bring it to Nancy Jo's session on flour sacks and Kansas history at the National Festival of Breads on Saturday, June 13 in Manhattan, Kansas. 
By Julia Debes
---