May 29, 2015
Meet Jane Fry and her Chocolate Swirl Loaves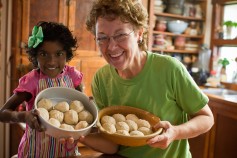 It has always been a goal for Jane Fry, National Festival of Breads finalist from Elk Falls, Kansas, to be a qualifier for the contest. For many years Fry has entered recipes in both the Kansas Festival of Breads and National Festival of Breads.
"It always grieved me because I just couldn't believe no one from Kansas had ever qualified. So you know it has always been a goal of mine to maybe be the one that qualified from Kansas. So I feel honored that I am the first adult Kansan to ever qualify," said Fry.
After years of entering in the contest, her hard work has finally paid off to produce what she calls Chocolate Swirl Loaves.
Fry said she is always altering and changing her bread recipes by adding different ingredients. Her original idea for the Time Saving and Simple Category was a recipe that called for JELL-O. This idea, however, did not work as well as she had anticipated.
"It was kind of nasty, so before I totally scrapped that idea I thought well maybe instant pudding would work," said Fry.
For her Chocolate Swirl Loaves she selected a soft roll type dough and decided to try adding the chocolate instant pudding as a filling.
"I brushed the butter on the dough and then put half a box of Hershey's Special Dark Chocolate pudding on it. I divided the box between the two and rolled it up and cut it in such a way that I thought was very pretty with the dark chocolate," said Fry.
After her loaves finish baking, she doesn't try to add frosting to them because she enjoys the mild chocolate flavor of the bread and the design the chocolate pudding adds to the dough.
"I like to see the braiding and the lines of the dark chocolate, so I just brush it with butter when it comes out of the oven because I think it is pretty just as it is," said Fry.
Feeling very honored to represent Kansas and having achieved her goal at being a finalist, Fry is looking forward to baking her Chocolate Swirl Loaves at the 2015 National Festival of Breads on June 13, 2015, in Manhattan, Kansas.
Finalist Facts
Fry is a repeat finalist in the Kansas Festival of Breads and won the Dinner Roll Category in 2002. Another year she was torn between two different bread recipes so she had her husband enter one. As a result, she ended up giving him the better one of the two recipes.
The most rewarding part of baking for Fry is the delightful aroma of freshly baked bread. She also enjoys sharing her food and seeing other enjoy it.

Fry and her husband are full time potters and have been in business for 39 years. Primarily they make functional baking dishes and dinnerware for sale. Together they plan on displaying their pottery pieces with wheat and sunflower designs at the National Festival of Breads.
By Audrey Schmitz
---