Pennsylvania bread baker wins National Festival of Breads baking competition
June 13, 2015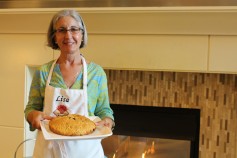 MANHATTAN, Kan. (June 13, 2015) - Lisa Keys of Kennett Square, Pennsylvania, is the grand prize winner in the 2015 National Festival of Breads baking competition, sponsored by King Arthur Flour, Red Star Yeast and the Kansas Wheat Commission.
Judges selected Keys' Smokehouse Cranberry Cheese Bread from among eight finalist recipes baked at the public competition on June 13 in Manhattan. The National Festival of Breads is the nation's only amateur bread-baking competition.
Keys' Smokehouse Cranberry Cheese Bread was entered in the competition's "Time-Saving and Simple Breads" category.
Keys said, "Memories of visits with my in-laws in Quechee, Vermont, inspired this bread. My mother in-law always had smoked cheeses from the local farmer and fresh-made maple syrup tapped from trees in town. She was also into healthy foods and introduced me to tofu in delicious breakfast smoothies. This bread honors all of her goodness."
Keys' blog, Good Grief Cook, is dedicated to celebrating her son William, who passed away four years ago. For Keys, her time spent cooking is therapeutic as well as tasty and she said she hopes the recipes and memories shared provide strength and support to others who have lost a loved one.
"What I've learned is that the grief is never going away," she said. "I wanted to celebrate the amazing son that he was and show people a positive way to deal with grief."
Keys is also a "Chopped" champion. She won a Mother's Day episode of the Food Network show that challenged competitors to create tasty dishes using ingredients like chicken noodle soup, neon-colored breakfast cereal and chocolate body paint.
As the 2015 National Festival of Breads champion, Keys received $2,000 cash, plus a trip to attend a baking class of her choice at the King Arthur Flour Baking Education Center in Norwich, Vermont. In addition, she will receive a supply (120 envelopes) of Red Star Yeast.
Judges for the event were Zoë François, author of "Artisan Bread in Five Minutes a Day;" Dr. Kadri Koppel of Kansas State University's Sensory Analysis Center; Jenny Dewey Rohrich, Prairie Californian  blogger; and Steven Young, Hy-Vee Bakery manager in Manhattan.
"It was a difficult decision because all of the breads were incredibly different and all held their own merit," said Rohrich. "Our judging really came down to which bread scored well in all the different categories. The winning bread brought forth the best balance in flavor, but also had great depth of flavor.
"It had incredible workmanship and texture along with ease of preparation. As judges we all agreed, this is a bread we can't wait to make in our own homes."
The recipe is available at http://nationalfestivalofbreads.com/cheesebread.
In addition to the competition, the National Festival of Breads featured educational baking demonstrations, children's activities, bread tasting and more. This was the fourth biennial event, and barbecue demonstrations and sampling were added this year. The nearly 1,000 attendees brought nonperishable food items as admission to the National Festival of Breads, which were donated to the Flint Hills Breadbasket, a community food network in Manhattan to help alleviate hunger and poverty. The King Arthur Bake Truck, part of the Bake for Good program, also handed out treats, collected financial donations and donated all of their breads baked during the festival to the Flint Hills Breadbasket. In total, more than 654 pounds of food was donated to the Flint Hills Breadbasket. 
At the evening National Festival of Breads Awards Banquet, the finalists' breads were auctioned off with proceeds split between the Flint Hills Breadbasket and Stop Hunger Now, a partner organization of sponsor Red Star Yeast. Together, Stop Hunger Now and Red Star Yeast have launched the "Baking the World a Better Place" campaign to raise awareness of chronic hunger issues and provide meals around the world.  About $3,500 was raised to benefit the two organizations.
The finalists for each category and special award winners included:
Ethnic: Felice Bogus, Raleigh, North Carolina – Chickpea-Stuffed Aleppo Flatbreads; Mary Hawkes, Prescott, Arizona – Cheddar 'N' Chiles Accordion Bread;
Rolls: Merry Graham, Newhall, California – Curry and Chia Onion Buns; Amy Meiers, Santa Rosa, California – Rosemary Cardamom Twisters;
Whole Grains: Ronna Farley, Rockville, Maryland – Crunchy-Topped Coconut Almond Bread; Patrice Hurd, Bemidji, Minnesota – Peppered Parmesan Veggie Bread;
Time Saving and Simple: Jane Fry, Elk Falls, Kansas – Chocolate Swirl Loaves; Lisa Keys, Kennett Square, Pennsylvania – Smokehouse Cranberry Cheese Bread;
Youth Category: Ellie Sapat, Falmouth, Maine – Wild Maine Blueberry Banana Nut Bread;
Best Recipe Using Soy Ingredients: Merry Graham, Newhall, California – Kale-Goat Cheese Artisan Olive Bread;
Best Recipe Using C&H® or Domino® Sugar: Mary Shivers, Ada, Oklahoma – Orange Scented Cream Cheese Kolaches;
Best Recipe Using White Whole Wheat Flour: Jennifer Beckman, Falls Church, Virginia – Buttermilk-Scallion Flatbreads.
Additional information about the 2015 National Festival of Breads, including the finalists' recipes and a complete list of sponsors, is available at NationalFestivalofBreads.com.
King Arthur Flour is not only the nation's oldest flour company, it is the single largest educator of home bakers in the world. Founded in 1790 and employee-owned since 1996, the company conducts free baking classes nationwide for both adults and children, and offers a wide variety of hands-on baking classes at its Baking Education Center in Vermont. King Arthur Flour's fundamental mission is to be an education and product resource for, and inspiration to, bakers worldwide. More information is available at kingarthurflour.com.
For more than a century, home bakers have trusted the high quality and consistent performance of Red Star®, SAF® and bakipan® Yeast, made by Lesaffre, the world leader in yeast technology. Their mission is to take the fear out of baking with yeast. More information is available at redstaryeast.com.
The Kansas Wheat Commission is a farmer-funded and governed promotion organization working to secure the future of Kansas wheat globally and domestically through research, promotion, marketing and education. Kansas wheat farmers support the Kansas Wheat Commission with a voluntary 2 cent assessment on each bushel of wheat produced in Kansas. For more information, log onto kansaswheat.org.
---