Pairing two Kansas specialties- barbeque and bread
June 10, 2015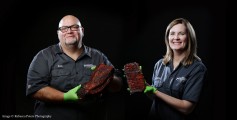 To match the best bakers from across the world, the National Festival of Breads invited undefeated BBQ Pitmasters and National Barbeque Champions Rod and Sheri Gray to conduct demonstrations during the Festival.
"After all, what goes better with barbeque than great bread?" asked Rod, pointing out that Kansas City style barbeque is traditionally served over bread.
And Rod would know. An Abilene-native, he and his wife Sheri known on the circuit as Pellet Envy, a full-time barbeque competition team and instructors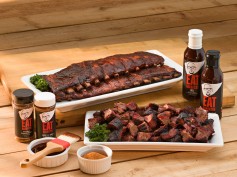 "We travel the country competing in barbeque contests and teaching people how to make competition quality barbeque in their backyards," he said.
Now in their 15th year of competing, the Kansas City-based couple typically logs 50,000 miles a year to compete in contests across the United States on the professional circuit sanctioned by the Kansas City Barbeque Society. Just like in NASCAR, the competition season is a year long accumulation of points in four categories: chicken, ribs, pork and brisket. At the end of the year, champions are named in each individual category as well as an overall champion. Pellet Envy was named National Champions in 2009, as well as individual championships in ribs and brisket categories. Rod and Sheri are also undefeated in four appearances on the television competition show BBQ Pitmasters.
In addition to competing, Rod teaches a series of sold-out classes each year, which average representation from 17 states and beyond. Rod and Sheri also launched their own commercially available rubs and sauces in 2013 – EAT Barbeque, now sold in Kroger and Kroger family stores like Dillon's.
They will bring their expertise to the National Festival of Breads. Sneak peak – Rod says the top tip he has for backyard barbeque cooks is not be impatient. Allow the heat and smoke to do its work because one cannot time barbeque, it is done when it is done. For more tips on the art of barbeque from Rod and Sheri, come check out their demonstrations throughout the day on June 13 in Manhattan, Kansas.
by Julia Debes
---