Mixing Flavors and Family
May 21, 2015
Meet Felice Bogus and her Chickpea-Stuffed Aleppo Flatbreads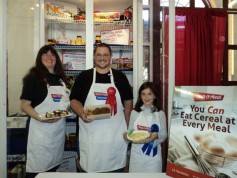 Felice Bogus from Raleigh, North Carolina, combined years of baking flat breads with her daughter and husband and inspiration from spices discovered on a family vacation to Israel to create her winning entry into the Ethnic Breads category of 2015 National Festival of Breads – Chickpea-Stuffed Aleppo Flatbreads.
"This flatbread … emerges as a warm, herby treat that you might find in a stall in a Middle Eastern souk," she wrote in her entry. "This bread is quick and easy to make but its exotic flavors will transport your family to another world."
Felice started baking pita crusts when her daughter – now 13 – was in kindergarten. Over the years, the family switched to flat breads, using a baking stone and experimenting with mixing spices into the bread. On a family trip to Israel, Felice discovered za'atar, a Middle Eastern spice mix with a woodsy taste that typically includes oregano, thyme, sesame and sumac. Addition of the Aleppo pepper provided a citrus kick and some heat, while chickpeas added both nutrition and an earthy tone.
"It definitely has a very Middle Eastern flair to it," she explained. "But, the flavors are not unfamiliar at all."
Felice is bringing that flair and flavor to the National Festival of Breads. She said she is looking forward to meeting the other contestants and pointed out that she is excited to participate in a contest sponsored by King Arthur Flour.
"I have five or six kinds of their flour in my kitchen right now," she said. "It is the only flour I will use for bread baking."
Want the recipe? Come check out Felice and her Chickpea-Stuffed Aleppo Flatbreads at the 2015 National Festival of Breads on June 13, 2015, in Manhattan, Kansas!
Finalist Facts
While her husband and daughter certainly enjoy Felice's baking practice, they cannot eat everything she bakes. So, her husband posts pictures of Felice's baked good of the day on Facebook and then it is first come, first served for neighbors and friends to take home and taste test.
When her daughter was in fifth grade, parents were asked to cater the school's annual fundraiser. Most parents brought almond bark or brownies. Felice, with help from her husband and daughter, contributed more than 200 cream puffs and éclairs with flavors matched to the main courses.
Felice admitted she used to be a "yeast-a-phobic" but after mastering French pastries, multi-layer cakes, cinnamon rolls and more, she was determined to tackle yeast breads. "I just made the decision that if I'm doing all these other things I ought to be able to bake a good, basic loaf of bread," she said. 
by Julia Debes
---