Love for Family & Italian Food Leads Home Baker to Create Sicilian Star Bread
April 19, 2019
Brenda Watts' Story
By Peyton Powell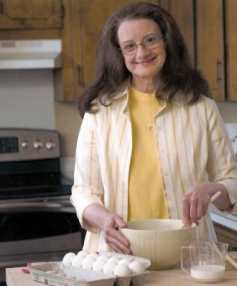 Brenda Watts, of Gaffney, South Carolina, has been shooting for the stars since she started baking at just 7 years old. When Watts was growing up, she spent countless hours in the kitchen with her grandma, watching and assisting her as she baked. She cherished every moment she had with her grandma and loved learning from her.
Watts was chosen as a finalist in the 2019 National Festival of Breads, Home Baker division, with her recipe, Sicilian Star Bread.
Watts realized how short life can be and wanted to spend time doing what she loved most, baking. Her grandma always had a dream of being published, and since she was unable to accomplish this, Watts wanted to fulfill her dream. With the goal of being published always on her mind, she constantly pushed herself, mastering recipes, entering contests and finally, fulfilling her grandma's dream.
"My husband Mike, my family, especially my grandkids, are such an important part of my life, and they are always such an encouragement to me in my baking/cooking," Watts said. "I am always teaching my granddaughters, Kennedy and Ava, how to cook like I did my daughter, Angela. That is such a blessing to be a part of my life now."
Watts loves the challenge that comes with baking and is always eager to try new recipes. She enjoys baking breads and cakes and is not shy to try any type of recipe.
"When you cook for people, you feel that love in your heart," Watts says. Baking is such a rewarding feeling, and she enjoys baking for other people who enjoy her recipes as much as she does.
Watts has tried entering the National Festival of Breads contest before, but has unfortunately, not won an award. Not giving up, she continued on with her dream and kept pushing herself. Finally, she created a masterpiece, putting her in the contest as a finalist. She was so thankful that she was chosen as a finalist and was proud of herself for accomplishing her dream. In addition, her recipe also won the Soy Award Home Baker Division, which is sponsored by the Kansas Soybean Commission.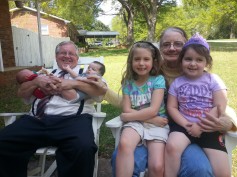 The inspiration for her Sicilian Star Bread came from her love of Italian food. She wanted to create something special with the star-shaped bread, so she put an Italian twist on it, creating a masterpiece. Watts wanted to create a dish that had a savory, not sweet flavor, and she accomplished that. It took her only four attempts to master this recipe before she sent it in to the National Festival of Breads judges.
"I was blown away and happy danced when I received the call about being a finalist," Watts said.
Watts has never been to a wheat farm, so she is eager to visit Kansas. Watts loves how amazing Kansas is and she cannot wait to spend the weekend here. She is looking forward to seeing old friends and being a part of the contest.
"These are the memories we cherish the most," Watts says. "I am thrilled, thankful and overjoyed to be a part of this."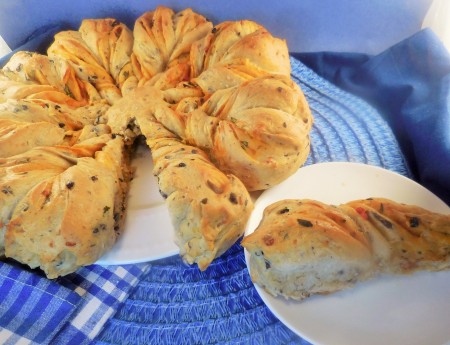 ---