Local flavors make winning combination for Michigan native at the 2021 National Festival of Breads
September 22, 2021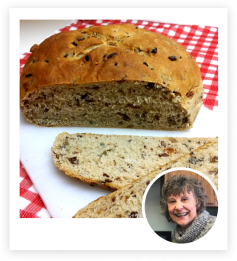 Barbara Estabrook has been drawn to the smells and flavors of baking since she started working in a small, hometown bakery in high school. When she wasn't behind the counter taking orders, she would venture into the kitchen — drawn by the smells — and the bakers eventually started teaching her their craft. 
Six decades later, she is now the master, and her grandchildren and great-grandchildren are her students and compete in contests like the National Festival of Breads alongside her. One granddaughter was even a finalist in the 2013 National Festival of Breads as a youth competitor with a recipe for Nacho Cheese White Whole Wheat Bread.
"Right now, my biggest baking inspirations are my two great-grandsons," she said. "I have bake days with them, and they come over and we bake. I open the refrigerator, and I tell them, 'Now what are we going to put into these cookies?' And they have just adapted to that just so well."
Estabrook brought that spirit of experimentation into her entry for the 2021 Virtual National Festival of Breads. Orange marmalade, dried tart cherries, pecans and locally tapped maple syrup are a few ingredients she uses in her original bread recipe. But the secret ingredient is wild rice, which is the signature texture to the recipe that earned her a spot in the June 9 event as the winner of the Traditional Breads category of the Adult Division. 
"I purchased a loaf of wild rice and cranberry bread several years ago and because I love wild rice, I decided to create a bread that would be a 'healthful' addition to my diet," she said. "I use naturally grown hand-harvested wild rice because it remains soft in the bread, unlike black, cultivated wild rice that can be chewy."
Estabrook said her bread doesn't require a stand mixer and encouraged home bakers to mix the ingredients in a bowl and knead the dough by hand. Her recipe is fast and easy to make, partly because she either pre-cooks the wild rice or just uses leftover rice from another meal. The rising time is also quick thanks to the inclusion of RED STAR® Quick-Rise Yeast. Her recipe also incorporates two types of flour — KING ARTHUR® Stone Ground White Whole Wheat Flour and KING ARTHUR® Bread Flour — to give the bread its great texture. The other diverse ingredients — many of which are grown locally in Michigan or nearby Wisconsin — add flavorful twists. 
"The combination of the wild rice and dried cherries pushed my recipe over the top, and that little bit of orange marmalade that's added to the bread is different than anything I've ever tasted," she said. "And using the maple syrup flavor...the minute I tasted it, I loved it."
Estabrook suggested that bakers who try out her recipe chops the pecans and dried cherries lengthwise to get her prize-winning texture and look. Another tip is to make sure the wild rice is cooked, well-drained and cooled. 
In their test kitchens, evaluators said the result is a hearty bread with a nice-pleasing flavor that is sweet, yet not too sweet. The judges also said the bread would be great for toast, which is how Estabrook likes to eat hers - lightly toasted and spread with maple-laced butter. 
Estabrook doesn't just share her baking experiments with her family, although they appreciate the samples. She also shares baked goods with a local home for domestic violence victims, a homeless shelter and even the police department.
"I bring samples over to our local police department for their coffee room, and they loved it," Estabrook said. "It gives me a really warm feeling. It's part of my gift to them and they deserve it."
Including Estabrook, recipes submitted by three adults and two youth finalists — representing states from coast to coast — were hand-picked to be featured during this year's virtual festival. Find the recipe for Hearty Wild Rice 'n Tart Cherry Bread, learn more about the other finalists and see more about the contest at www.NationalFestivalofBreads.com.
###
Written by Julia Debes for Kansas Wheat
---