Grocery Store Cashier with a Food Contest Hobby
April 17, 2015
Meet Ronna Farley and Her Crunchy-Topped Coconut Almond Bread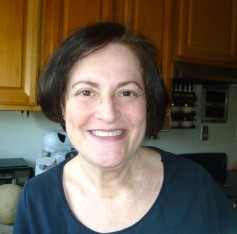 The checkout aisle is an inspiration for Ronna Farley, National Festival of Bread finalist from Rockville, Maryland. Ronna has worked as a cashier at Giant Foods for more than 30 years and is constantly looking out for interesting ingredients that come across the scale.
"I see people buying things and it puts a light bulb in my head," Ronna said, adding that she loves sharing stories and recipes with her customers.
To create her entry in the Whole Grains Category at the National Festival of Breads, Ronna said, "I just started thinking about ingredients I liked and just went from there."
That included flavor combinations in candy bars like Almond Joy and Mounds. The resulting recipe – Crunchy-Topped Coconut Almond Bread – has soft, sticky dough and toasted almond and coconut topping that "melts in your mouth," according to a National Festival of Breads test judge. Ronna said she worked to enhance the coconut flavor and ensure the almond and coconut could be tasted throughout the bread.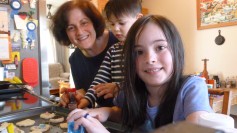 While she enters many other recipe and baking contests, Ronna said the National Festival of Breads stands out as one of the best.
"This contest is prestigious because not everyone bakes bread," she said. 
"Baking bread is like an art and I feel very honored that I was chosen as a finalist. That people like what you make is a nice pat on the back."
Before preparing the recipe at the bake-off on June 13 in Manhattan, Kansas, the National Festival of Breads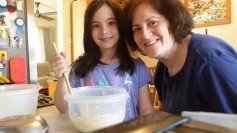 finalists will have a hands-on tour of wheat from the field to the table. The wheat tour includes visiting a wheat farm during a harvest as well as a grain elevator and a flour mill.
"I'm looking forward to everything – the whole experience," Ronna said. "I want to see how everything is done."
Finalist Facts
Ronna's mother was a great cook and Ronna loved helping her in the kitchen. So much so, that some holidays Ronna's mother would purposefully not wake Ronna up in the morning so that she could get an early start on the holiday cooking on her own.
Ronna enters recipe and cooking contests as a hobby and has competed in contests from the World Food Championship to local oyster and national chili contests and even a grapefruit juice contest. She even connects to other contestants through Facebook groups from which they support and encourage each other.
Ronna recently won her first Kitchen-Aid stand mixer – the same that finalists will use at National Festival of Breads – as a prize in a Mid-Atlantic Dairy Association contest. The white mixer has a black pattern overlaid to look like a Holstein cow, which Ronna said makes a unique looking mixer, but one essential to preparing her yeast bread recipes. 
by Julia Debes
---