Five decades of refinement turn unwritten recipe into finalist at the 2021 Virtual Festival of Breads
September 22, 2021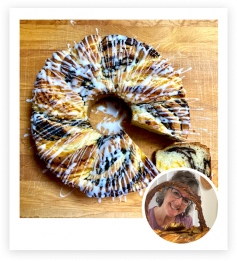 As a child, if Susan Simpson wanted to spend more quality time with her grandmother, the best place to do so was the kitchen. So, she would sidle up next to her Oma — her German grandmother — at the kitchen counter and learn to bake.
"Yeast bread was probably the very first thing I baked as a child," she said. "My grandmother baked bread without a recipe, just from memory, and she didn't measure. She measured yeast and salt in the palm of her hand. That fascinated me, and I wanted to learn from her."
Simpson would eventually transcribe her grandmother's handfuls of flour and splashes of milk into a written recipe for delicious and artfully braided loaves that were more dessert than what her grandmother just called bread. And for 50 years, she has fine-tuned that recipe into her variation of "Oma's Bavarian Twist."
"I have been baking a long time and love baking yeast breads," she said. "Yeast bread is very forgiving and very fun. You get your hands in there. I think it's one of the best places to start baking."
She entered the latest iteration -— the Apricot-Raisin Babka Ring — into the 2021 Virtual National Festival of Breads. The recipe's neat and beautiful shape and soft, moist texture earned her a spot in the June 9 event as the winner of the Sweet Bread/Rolls category of the Adult Division.
"I have modified and adapted her recipe numerous times over almost five decades," Simpson, who lives in Harrington in central Delaware, said. "I changed many things about it, but it's just such a great recipe for any sweet dough."
"I decided to use her recipe and then I wanted to make it look fancy. I really like the babka look, but instead of using chocolate (which is a traditional filling for a babka), I decided to go with dried fruit."
Using the same cooking method in the recipe, Simpson said bakers can also experiment with using their favorite fruit fillings. She's tested out figs, dates, golden raisins and cranberries — just to name a few.
"I tried several different ones, but apricot and raisin just made a stunning presentation...and so tasty," she said.
Simpson's recipe is called a ring because dough ropes — one filled with apricot and one filled with raisin — are twisted and braided together and then placed in a nine-inch tube pan to create and hold its beautiful shape. In addition to using high-quality KING ARTHUR® All-Purpose Flour and RED STAR® Quick-Rise Yeast, the ring is topped with a neatly applied glaze.
"The final step after you have rolled up the fillings inside these two logs of dough and then you slice them. It looks beautiful. You twist them, and you have this lovely, layered thing," she said. "You form it into a ring on the counter, and then you have to get it into a tube pan — that is the hardest part of the recipe."
"But no worries. No matter how you flop it in there, once it rises, once it bakes and you slide it, you will be amazed. It will be beautiful, even if it's a little shaggy getting into the pan."
Simpson encouraged bakers to always look for how to add that wow factor for their recipes — just like her perfectly applied glaze. Her suggestion — embellish everything.
"Of course, baked goods have to taste good, but they need to look good first," she said. "If it's the drizzle you put on top or even a dusting of powdered sugar or a sprig of mint leaf or anything, I just feel like baked goods shouldn't be naked. They should always have some type of embellishment. It doesn't take long, but that little bit of wow factor is very important."
But beyond looking and tasting good, Simpson also encouraged bakers to follow another lesson she learned from Oma — celebrate the spirit of baking and giving. Whether someone is celebrating or sad, sharing baked goods helps provide a sense of community and support.
"I just feel like baking fixes everything," she said. "So if you can get somebody something homemade — that's a piece of yourself, you've put love into it, so do it."
Including Simpson, recipes submitted by three adults and two youth finalists — representing states from coast to coast — were hand-picked to be featured during this year's virtual festival. Find the recipe for Apricot-Raisin Babka Ring, learn more about the other finalists and see more about the contest at www.NationalFestivalofBreads.com.
###
Written by Julia Debes for Kansas Wheat
---