Finalists Tour of Kansas Wheat Industry
June 13, 2015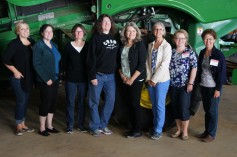 Eight finalists traveled from coast to coast to Manhattan, Kansas, to compete in the National Festival of Breads. Before the competition started, however, Kansas Wheat arranged a farm to flour tour for contestants. Aaron Harries, Kansas Wheat vice president of research and operations, served as the tour's emcee as the finalists and accompanying Speak for Wheat spokespersons traversed I-70.
Farmer Direct Foods Flour Mill
The finalists' first stop was Farmer Direct Foods flour mill in New Cambria, Kansas. The cooperative mill only grinds whole wheat flour, although they do source both hard red winter (HRW) and soft red winter (SRW) wheat.
The mill uses four 30-inch granite stones to produce stoneground, whole wheat flour for companies like King Arthur Flour. The mill can grind 150,000 pounds of flour each day.
Ron and Shirley Suppes, Kansas Wheat commissioner and farmer for Farmer Direct Foods, joined the tour and talked with finalists about how Farmer Direct works to source wheat through contracts and protein premiums when possible. He also discussed how Farmer Direct has a high level of traceability and is able to trace each bag of flour back to the farmers' fields from where it originated.
Kejr Farm 
After working up an appetite at the flour mill, finalists next were treated to a lunch sponsored by Hy-Vee at the Kejr farm in Brookville, Kansas. During the meal, farmers Joe and Geena Kejr showcased their no-till operation, which includes a rotation of wheat, corn, soybeans and grain sorghum.
Despite sprinkles and mud, the contestants explored Kejr's equipment, including two combines, tractor and grain cart and sprayer. Joe's nephew even flew his drone around the farm to demonstrate its capabilities.
Cargill Ag Horizons
Following the same route the Kejr's will take to deliver their wheat in coming weeks, the finalists next visited the Cargill Ag Horizons elevator in Salina, Kansas. The largest grain elevator in Kansas, the facility can hold 32 million bushels and can load out one million bushels, equal to 1,000 trucks, a day.
The Cargill facility was originally built during the Cold War as part of long-term food security efforts. Today, the concrete silos can each hold 60 trucks worth of grain or 60,000 to 70,000 bushels a piece. The elevator utilizes a RFID smart truck system to more effectively move trucks through the elevator.
Kansas Wheat Innovation Center
The final stop on the finalists' tour was the Kansas Wheat Innovation Center, located across from Bill Snyder Family Stadium on the north campus of Kansas State University. The building represents the largest farmer investment in wheat research in Kansas and includes a state-of-the-art test kitchen as well as 15,000 square feet of laboratory space and 10,000 square feet of greenhouses.
Join the finalists in Manhattan, Kansas, on Saturday, June 13 as they compete to win the championship title at the National Festival of Breads!
By Julia Debes
---