Don't Skip Out on National Breakfast and Whole Grains Month
September 30, 2015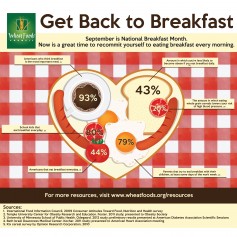 September is almost over, but it is not too late to celebrate both National Breakfast Month and Whole Grains Month. With proven health benefits for both eating breakfast and incorporating more whole grains into your diet, these practices are too good to skip.
Eating breakfast packs a nutritional punch. Breakfast helps boost performance for students on memory tests, prevent obesity and belly fat and lower risk of high blood pressure. In contrast, skipping breakfast can contribute to overall bad eating throughout the day, increased likelihood of type 2 diabetes and raised cholesterol in even healthy, lean women.
Adding whole grains into the menu makes breakfast an even healthier choice. Whole wheat flour includes all three parts of the wheat kernel, which provides additional fiber, B vitamins and other minerals. That means whole grains can help lower risk of childhood asthma, improve gastrointestinal health, reduce risk of breast cancer in women and lower the risk of type 2 diabetes. All good reasons to incorporate whole wheat flour into breakfast recipe favorites.
Do not miss out on the health benefits by skipping the first meal of the day. Instead, rediscover your love of breakfast with one of these great breakfast recipes:
For more great information on National Breakfast Month or additional recipes from the Wheat Foods Council, visit http://www.wheatfoods.org/resources/73.
For tips on substituting whole wheat flour into recipes, check out Cindy's tips.
By Julia Debes 
---