Blueberry-Lemon Wheat Rolls
Pam Correll, Brockport, Pennsylvania
Ingredients
¼ A warm water (110°F - 115°F)  
1 (¼ ounce) package RED STAR® Active Dry Yeast
¼ cup, plus ½ teaspoon granulated sugar
1 cup King Arthur® White Whole Wheat Flour
1 tablespoon vital wheat gluten
½ cup milk (110°F - 115°F)
½ teaspoon salt
1 large egg, beaten
1 teaspoon finely grated lemon zest
2 teaspoons fresh lemon juice
3 tablespoons unsalted butter, softened
1 ½ - 1 ¾ cups King Arthur® Unbleached Bread Flour
BLUEBERRY FILLING
¼ cup unsalted butter, softened
½ cup granulated sugar
2 teaspoons finely grated lemon zest 
2 tablespoons King Arthur® Unbleached Bread Flour
2 cups fresh blueberries, rinsed and patted dry
LEMON GLAZE
1 tablespoon unsalted butter, melted
½ cup confectioners' sugar
1 tablespoon fresh lemon juice
2 teaspoons finely grated lemon zest
Directions
1. For the dough: In bowl of a stand mixer fitted with paddle, combine water, yeast and ½ teaspoon sugar. Wait 5 - 10 minutes for it to foam (proof). 
2. Add white whole wheat flour, gluten, milk, sugar, salt, egg, lemon zest and lemon juice. Mix at low speed 2 minutes. 
3. Beat in butter and enough bread flour to make a soft dough. Switch to dough hook and knead 8 - 10 minutes at medium-low speed. Transfer dough to a greased bowl, turning once to coat. Cover; let rise until doubled.
4. For the filling: Beat together butter, sugar, lemon zest and flour to form a paste. 
5. Roll dough into a 16" x 12" rectangle. Spread filling over dough and top with blueberries. Beginning with 16" edge, tightly roll dough into a log and pinch to seal.  With a sharp knife, slice the roll into 12 pieces and place into a greased 13" x 9" baking pan. Cover; let rise until nearly doubled.
6. Towards the end of the rise, preheat oven to 350°F. Bake 24 - 28 minutes, or until lightly browned and internal temperature registers about 210°F. Place on a cooling rack. Cool slightly.
7. For the glaze: Whisk together butter, confectioners' sugar and lemon juice. Drizzle over warm rolls. Sprinkle lemon zest over the rolls.
Yield: 12 rolls.
Nutrition Information Per Serving (1 ROLL, 107g)
289 calories, 6g protein, 47g carbohydrates, 3g dietary fiber, 9g fat, 5g saturated fat, 0g trans fat, 35mg cholesterol, 57mcg folate, 110mg sodium, 4mg vitamin C, 2mg iron, 20mg calcium.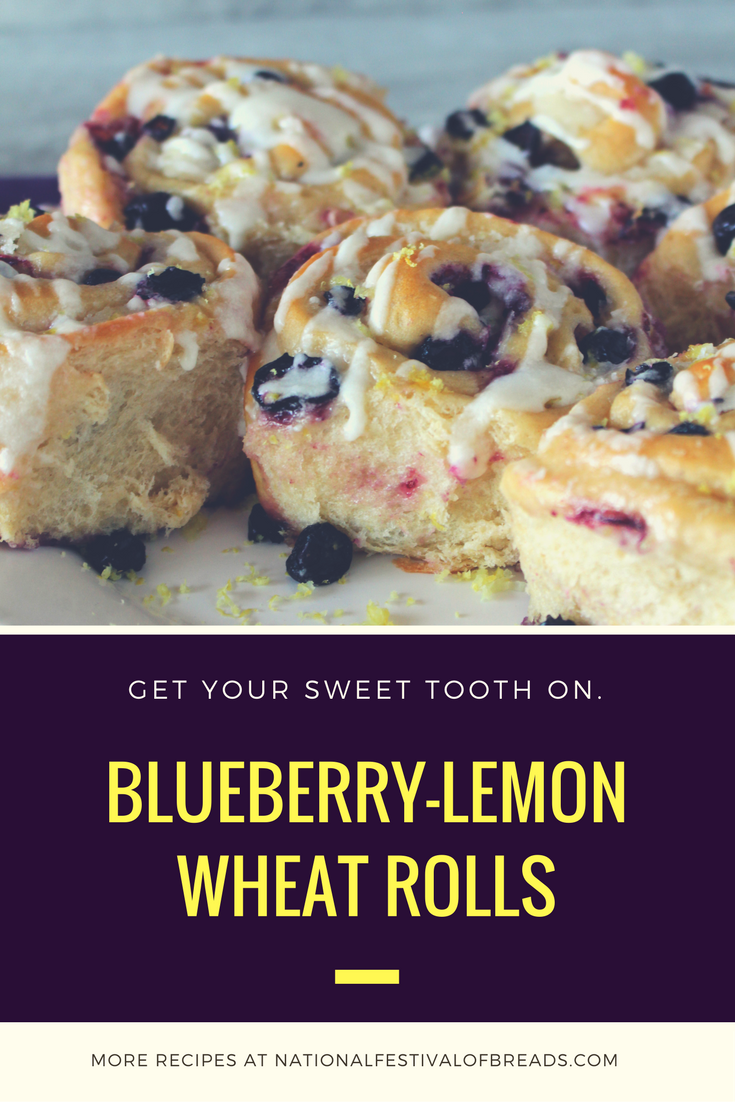 ---