'The Best Bread in America'
July 22, 2013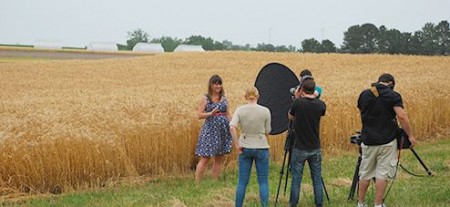 Four weeks ago today, the National Festival of Breads crowned Rosemary Leicht's "Onion Parmesan Cracker Bread" as the nation's best amateur bread.
Today, the rest of the world gets to learn much more about Rosemary's recipe, thanks to Allison Fishman-Task and the Yahoo! Screen series, "Blue Ribbon Hunter."
Part food show, part travelogue, the "Blue Ribbon Hunter" is a really fun program that gives insight into some of the nation's top food competitions. We were honored to have Allison and her crew come to Manhattan to take part in the National Festival of Breads.
One of the coolest things about the program is the setting: a wheat field, just to the north of Bill Snyder Family Stadium in Manhattan. It was pretty cool to see how much Allison and her crew enjoyed being 'in the field,' so to speak. And it may be kind of corny, but crew member Sarah Lindland began singing, "America the Beautiful" as the sound and camera crew worked to set up their equipment. She said it was the first time the Blue Ribbon Hunter folks had ever shot a program in a field...and she was caught up in the moment.
Allison, Sarah and crew were great folks to meet and visit with. They were extremely complimentary of the National Festival of Breads (host Allison called the event 'posh') and they loved seeing Kansas.
We became fans of theirs in the few short days they were in Kansas, but they became big fans of the National Festival of Breads, home baking and the work that wheat farmers must do to put food on your table.
by Bill Spiegel
---