Share stories through bread
October 23, 2014
The best recipes sometimes include a secret ingredient, one that cannot be listed in the instructions. When a piece of the baker's heart is included in the mix, the bread is even more delicious.
Ever since the inaugural 1990 Kansas Festival of Breads encouraged contestants to "get back to their roots and their kitchens," contestants have shared not only their fantastic bread recipes, but also their stories.
Sometimes, these recipes were passed down through the generations – a literal American melting pot. Take Patty Betts, who won the 1998 Kansas Festival of Breads with her Dampfnudlen (steam buns). After her grandparents lost their house during a bombing raid in Germany during World War II, they moved in with her great-grandparents. With food scarce, the family used their imagination and their cooking skills to feed the family. Four generations later, this delicious and inexpensive meal was still one of her family's favorites – and obviously one of the judges' too!
1994 Champion Rose Wahl shared a holiday bread recipe from her homeland with her Czech Houska. She finished her bread with an egg yolk wash, brushing it with a feather brush she brought with her from Czechoslovakia.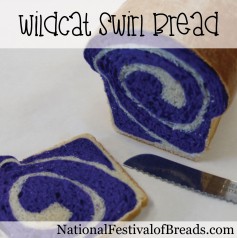 For others, bakers incorporated some of their favorite things into their recipes. Youth division artistic winter Stetson Honig honored the Kansas State University mascot with his
Wildcat Swirl Bread
, a white loaf with a purple swirl.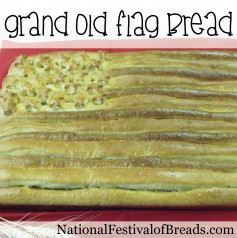 And, the
Grand Old Flag Bread
, made by Maria Maus in 2002, showed off her patriotism with white and wheat dough stripes and stars.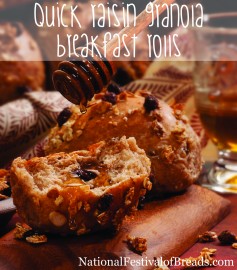 Some winning recipes just seem serendipitous. When Gale Collier spied an almost empty box of cereal of raisin bran on the kitchen counter, she mixed it into the granola breakfast rolls she was making. The resulting
Quick Raisin Granola Breakfast Rolls
became a family favorite – and won the 2011 National Festival of Breads.
Julia Kendall said her sister-in-law suggested she try a braid, telling her "anyone who could French braid her girls' hair should be able to do a braided loaf." Her perfectly shaped loaf earned her a spot as a finalist in the 1990 Kansas Festival of Breads.
For Dorothy Johnson, bread was literally part of her love story…and her wedding vows. When she and her husband were planning to be married, he said, "I sure hope you bake bread." So, she started baking. Her Swedish Cardamom Wreath, the 1991 champion, was based on his recollection of his Swedish grandmother's cardamom roll.
No matter whether the recipe was a cultural tradition, inspired or just a happy happenstance, share your original bread recipes – and your stories – by entering the National Festival of Breads before January 16, 2015. 
by Julia Debes
---