Keep on the Shelf? National Festival of Breads entries ready to be tested
December 1, 2014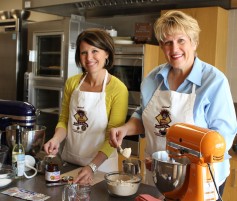 The Kansas Wheat Innovation Center's test kitchen is literally heating up for the next National Festival of Breads. With sleeves rolled up and aprons smartly tied, two Kansas Wheat staff are preparing to test bake this year's top contenders.
Before they start, a team of judges will read and evaluate the entries, selecting between 80 and 100 to be test baked. After they are baked, judges identify "keep on the shelf" worthy recipes. A final round of judging allows taste testers to vote for the top eight recipes in each category as well as the youth division. From there, the eight adult finalists and one youth winner are selected.
Cindy Falk, Kansas Wheat nutrition educator and National Festival of Breads coordinator, said she takes advantage of the great resources in Manhattan, Kansas, to build her judges pool.
"We have a great audience here with Kansas State University students, Research & Extension staff, food editors, technical baking instructors from AIB International, county and state fair food judges from around the state, dieticians and our own staff," she said.
Before the judges can taste test the top tier breads, however, Cindy and her new nutrition educator assistant Julene DeRouchey have a lot of baking to do. 
Meet Cindy Falk
Folks simply refer to Cindy as "The Wheat Woman." She started as a Speak for Wheat Spokesperson in 1985 before joining the commission staff.
She has literally been involved with the National Festival of Breads from the beginning. As a spokesperson, she tagged along with then nutrition educator Sharon Davis to the meeting of the Kansas Wheathearts, an auxiliary group of the Kansas Association of Wheat Growers, who decided to start a state baking contest.
"There's every type of festival out there, why wouldn't Kansas have a bread festival?" she said. "It just makes sense, doesn't it?"
Cindy is no stranger to baking contests. Prior to working at Kansas Wheat, she was a finalist in the Kansas Beef Cook-Off, National Beef Cook-Off, Hunt's Spaghetti Contest, Chef-Boyardee Pizza Contest and the champion Kansas Governor's Bread Basket baker. Those experiences helped her identify the special details that make the National Festival of Breads so unique.
Cindy grew up on a farm near Laclede, Kansas, and earned her human ecology degree from Kansas State University.
Meet Julene DeRouchey
As one would expect from the Wheat Woman, Cindy taught her daughters how to bake award winning breads. But, no matter how perfect the loaf, her two daughters had fierce 4-H competition at the local county fair from another pair of sisters who specialized in layer cakes. The Grand Champion 4-H prize would often trade back and forth between the families year after year.
With an innate ability to connect great talent with good opportunities, Cindy encouraged Julene, the older of those sisters, to work at Kansas Wheat as an intern, even before she started her studies in human ecology and mass communications at Kansas State University. As part of her duties, she sometimes helped Cindy in the test kitchen.
Later, Julene would work as an extension agent in Pottawatomie County before taking time off to raise her three children. But, she continued to work as a Speak for Wheat spokesperson and even tested National Festival of Breads recipes at home. She also coordinated the prior National Festival of Breads' Share Our Strength bake sales, which raised money for local charities.
Starting this year, Julene is the new nutrition educator assistant, and her primary responsibility will be helping Cindy in the test kitchen.
"I love baking and trying new recipes," Julene said. "I bring the busy mom and home baker perspective."
Will Julene and Cindy be testing your bread this year? Submit your own original recipe into the National Festival of the Breads by January 16, 2015.
By Julia Debes
---