How we used an 8-foot loaf of bread to celebrate
May 5, 2013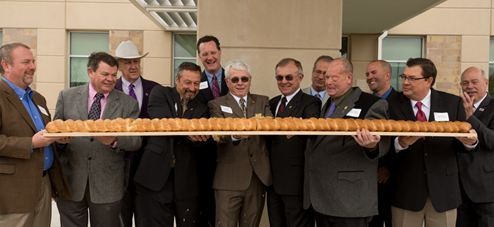 One of the big attractions at the Kansas Wheat Innovation Center Dedication in Manhattan April 26 was the promise that instead of cutting a ribbon prior to the opening of the new building, grower-leaders of the Kansas Wheat Commission would instead cut an 8-foot loaf of bread. 
Inside the KWIC is the Syngenta "Speak for Wheat" Test Kitchen, which is outfitted with a commercial oven. But it's not near big enough to bake a loaf that large in size.
For that, we had to turn to our friends at AIB International, a Manhattan-based company that teaches bakery science courses and conducts food safety audits.
We consulted with Aaron Clanton, baking curriculum manager at AIB International, to see whether his firm could create a) the recipe and b) the bread itself.
It's not any secret formula or anything; Clanton said he and his colleagues used a simple wheat bread recipe, but tailored it for four, eight-foot loaves. The formula used a total of 30 pounds of white wheat flour. That is about 7.5 pounds of flour per loaf, or one-and-a-half bags of flour from your local grocery store.  
"We took the dough and cut it into 18, 9-ounce pieces, which we turned into ropes," he explained. "AIB has a French baguette molder. I was running the ropes though the molder, and my colleague Jeff Zeak used a triple braid to braid each loaf."
The loaves were proofed on 9-foot boards, then placed in the oven to bake for 20 minutes at 450 degrees. Yes, AIB has ovens that can handle loaves this size.
Visitors to the Kansas Wheat Innovation Center Open House were impressed that the Kansas Wheat Commission used a loaf of bread to commemorate the building's grand opening.
"A number of people told us that it was quite fitting to have a bread cutting, rather than a ribbon cutting," says Cindy Falk, KWC nutrition educator. "People were amazed to see a loaf this large."
 The KWC used two loaves at the Open House; both were eventually served to more than 350 guests.
by Bill Spiegel
---