Help your entry rise to the top with Cindy's timely tips
October 1, 2014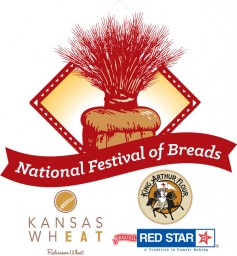 Do you have the next champion recipe for the 2015 National Festival of Breads? Do not let small mistakes keep your entry from the finals!
"We are searching for creative, tasty recipes that will work in any kitchen, including yours," says Cindy Falk, National Festival of Breads coordinator. "The top bread recipes in both the adult and youth age divisions will be baked and presented to the team of judges. They decide whether or not it meets our high standards of deliciousness and works as written — but that's just the beginning. The recipe also needs to be family-friendly, healthful and easy to make."
Before you submit your recipe, Cindy has some timely tips to help your entry rise to the top.
Tip #1: Follow the Rules
Forgetting to include a simple piece of information could disqualify your hard work, so study the rules posted at www.nationalfestivalofbreads.com.
Of these rules, the most important is that your recipe must be your own original recipe. The recipe cannot be copied from a magazine, a cookbook, Pinterest or the web. The judges will check each of the finalists to make sure the recipe has not been previously printed or belongs to another source.
Additionally, this contest is for yeast breads and quick breads only. So, save your cake, cookie, pudding or other tasty treats for sharing with your friends and family at other times.
Tip #2: It's All in a Name
The recipe title are the first words the judges see, so think of a creative and descriptive name to grab their attention. Use your ingredients for inspiration or the recipe's history.
Tip #3: Keep It Simple
Recipes score higher if they have simplified steps and fewer ingredients. A two-page recipe with 14 or more ingredients is not likely to be chosen. Ingredients should also be easily attainable.
"Make sure your ingredients can be found at most supermarkets," Cindy says. "Complicated recipes do not often win." 
Tip #4: But Be Specific
Omitting key information about your recipe can cause it to be disqualified. Make sure to:
Specify the type of King Arthur flour used in the recipe: King Arthur All-Purpose Flour, King Arthur Self-Rising Flour, King Arthur Bread Flour, King Arthur Premium Whole Wheat Flour, King Arthur White Whole Wheat Flour, King Arthur Perfect Pastry Blend or King Arthur Organic Flours.
Specify the type of Red Star Yeast used in the yeast bread recipe: Active Dry, Bread Machine, Quick Rise, Platinum Superior Baking or Cake (Fresh) Yeast. Note: Quick bread recipes can use leavening agents, such as baking powder and/or baking soda or King Arthur self-rising flour.
Tip #5: Take Out the Guesswork
A good recipe without good instructions will not make a good entry. Since you cannot come and help us make your recipe, make sure your instructions are concise and clear.
Include a range of flour, i.e. 4 to 4 ½ cups. Test kitchen bakers will stir flour, spoon flour into a dry standard measuring cup and level off. (See How to Measure Flour Correctly video by the Home Baking Association.)
State how many minutes are needed to both mix the ingredients and knead the dough.
Provide detailed shaping instructions that include the length of the dough rope, dimensions of the rectangle and ounces/pounds of dough used.
Include the dimension of the pan size or baking sheet. Cindy says, "Stating in the recipe that you place the dough in a greased loaf pan is not helpful without the size of the pan itself."
List the egg wash ingredients if toppings, like sesame seeds, flaxseeds or rolled oats, are used to decorate the bread.
Include the approximate length of the rise (proof) time of the yeast dough.
Double check for oven temperature and a range of bake time. Internal temperature of the baked product is even more helpful.
Tenting instructions. Did you tent the bread with aluminum foil after a certain amount of time to keep it from over-browning?
Make sure all of your measurements are in English, using standard measurements – no metric measurements will be accepted.
Tip #6: All In
Finalists are not allowed to edit their recipes, so double check that you have all the information in the recipe you submit.
Let us know any other details that will help our test kitchen bakers make your entry closer to the way you do at home.
Tip #7: The Nutritious Edge
Consider the nutrition of your recipe and if there are any healthier modifications you can make. Healthy and nutritious recipes will always win a few extra points, according to Cindy.
Tip #8: Follow the Fads
Cindy says not to overlook trendy ingredients that are all the rage in food magazines, food shows, Pinterest or the web. A new twist on a family favorite may give your entry an edge.
Tip #9: Spell Check
If your recipe has numerous misspelled words, it may be quickly eliminated. So, before you click "submit," proof read it for errors one last time!
Tip #10: Show It Off
The photo that accompanies your recipe is important, so show off your recipe in its best light. A baked loaf and rolls should include a slice so the judges can see the crumb structure, texture and color. Cindy says even if an entry tastes delicious, but does not look good, it probably will not have a score high enough to make it to the final judging.  
After following all of these tips, Cindy says to congratulate yourself on a well done job of reading the rules and developing a well-written, detailed, original recipe.
All that is left is to click "submit" and you are on your way to becoming a finalist in the 2015 National Festival of Breads. Good luck!
***
Special Awards:
In addition to the eight finalists, two special awards of $500 each will be given in the Adult division.
Best Recipe Using White Whole Wheat Flour (using at least 75% white whole wheat flour in recipe)
Best Recipe Using a Soy Ingredient (soy flour, soybean oil, soynuts, tofu, soymilk, soynut butter, soy yogurt, soy cereal, soy grits, soy cheese)
Whole Grain Bonus! Any recipe using at least 50% whole wheat flour that is selected as a finalist will receive an additional $200 cash prize.
by Julia Debes
---