June 22, 2013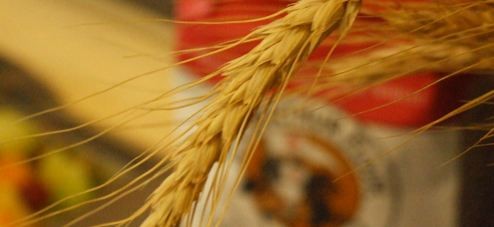 Yesterday our contestants and several Kansas Wheat Spokespersons hopped on a tour bus in hopes of learning how the wheat in the fields gets to the flour in our kitchens.
Our first stop was a a flour mill where the contestants had the opportunity to see King Arthur Flour being bagged. They were even able to take home a bag of their own!
Next stop was Kejr Farms, outside of Salina, Kansas. After a wonderful lunch of fried chicken, mashed potatoes and sweet corn the group had the opportunity to check out the machinery the Kejr's had just outside. Many contestants loved getting to climb up and see the view from the cab of a tractor. 
While the contestants loved getting a look at the towering John Deere's what gave them the thrill of the day was the next event: seeing wheat harvest. Joe Kejr took us out to a field of wheat that they were harvesting and each person that wanted to, got a ride in a combine. This is where the event (National Festival of Breads) truly came full circle.
"I will definitely be looking at my grains differently after this" said Elke Roby a contestant from Lincoln, Nebraska.
Elke wasn't the only one who had an eye opening experience. Merry Graham from California said,
"I don't mind spending as much for a bag of flour after seeing all the work that goes into making it! And thank goodness that we have people who are willing to do all that hard work! It's amazing that we get our food so cheap with all the time, effort, and energy that goes into producing it."
After getting a glimpse at harvest, the group had the opportunity to tour the Cargill grain elevator in Salina. The contestants were awed at  the size and amount of grain that was stored there.
After a long day the group headed back to Manhattan to rest up for today's festivites and enjoy a wonderful "From the Land of Kansas" dinner. 
Rita Lutz from Horshoe Bay, Texas summed up the day,
"You never stop to think about all that goes into making a bag of flour but now I am glad I know."
by Nicole Lane
---