Bread Machine Recipe Tips
August 20, 2014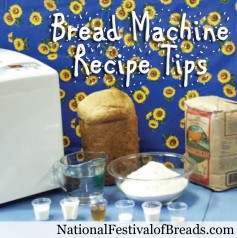 We love hearing from consumers – particularly when we can help them have a better baking experience!
The other day, Marsha C. wrote via e-mail, with a problem that can happen to any of us.
She writes: "I recently found a recipe for a bread machine bread mix. I made the mix up and completely lost the recipe on how to use it in the bread machine. Now I have a canister of mix and can not make a loaf of bread without guessing. If we like it I also can not duplicate it! HELP!!! Please, is there a recipe for a mix and recipe for use you might locate for me? This all happened before the holidays so I did not think about it for couple months. My thoughts are GONE. I do not remember where I found it or anything else. I believe I was to use only yeast, butter and water but am afraid to try it. There was no egg. That is the only thing I do remember! Now that I write it I feel so stupid. HELP!"
Fear not, Marsha. Cindy Falk, nutrition educator for the Kansas Wheat Commission, is here to help. Her response is perfect for anyone trying to use a bread machine to make a tasty loaf of bread:
I would experiment with these amounts for a 1 1/2 lb. loaf:
3 cups mix
2 teaspoons yeast (bread machine or active dry)
2 tablespoons butter or margarine
3/4 - 1 cup plus extra tablespoons water (80 degrees) (I assume that salt and sugar were in the mix)
I don't know how the mix will absorb the water, so start with about 3/4 cup water and gradually add additional water until a soft ball of dough forms around the kneading blade. Let the machine mix the dough for about 5 minutes, then open the lid and touch the dough. It should feel moist, not dry. If it feels dry add additional water, 1 teaspoon at a time.
If you can recall or look at the owner's manual, add ingredients to bread machine pan in the order suggested by manufacturer.  Recommended cycle: was it basic/white; whole wheat/whole grain??
This is how I would tackle this problem. Hope it helps you.
Cindy
The National Festival of Breads website is the perfect forum for you to ask home baking-related questions.
---