A Sweet Reward: C&H Sugar and Domino Foods Join National Festival of Breads
December 19, 2014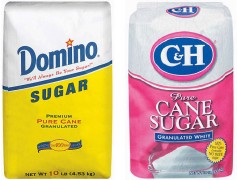 A tablespoon (or cup) full of high quality sugar may help the next National Festival of Breads champion win in 2015, thanks to C&H Sugar and Domino Sugar.
The two sugar brands, part of ASR Group, the world's largest refiner of cane sugar, have teamed up to sponsor a special award at the National Festival of Breads for the best sweet bread or roll in both the youth and adult categories.
Nancy Barbee, marketing manager with Domino Foods, explained the companies have made it their objective to help consumers return to baking from scratch. She added that helping sponsor the Festival is a natural extension of an existing partnership with the Home Baking Association.
"They had the same objectives – teach people how to bake and have fun with it," said Barbee. "We like to encourage baking, but we cannot reach everyone. We thought it was a great idea to get involved and we are looking forward to some really great recipes."
More than Sweet
Barbee pointed out that sugar does more for a recipe than just add sweetness. She added the right amount of sugar helps yeast rise and give a loaf volume, creates that beautiful golden crust and even helps cookies spread. But, she cautioned contestants and home bakers to double check their methods and measurements.
"Use the exact right amount and measuring properly will give you the perfect result," she said. "Nothing can compare when you get the recipe right." 
To help, both Domino Sugar and C&H Sugar have how-to videos and other tips posted on their respective websites – http://www.dominosugar.com or http://www.chsugar.com/. Both even have a consumer affairs team dedicated to answering questions on how to fix hard sugar to how to make the perfect frosting.  
Need some added inspiration for that award winning National Festival of Breads original recipe? The websites have recipes too, along with the Confectionista Project. Read along as two young professional women, one from Los Angeles and the other from New York, tackle the challenges of learning how to bake and trying out different recipes.
Maybe they will even bake your sweet bread or rolls after you win the C&H Sugar and Domino Sugar Special Award next June. Make sure your entry is submitted before January 16, 2015. 
---