2013 National Festival of Breads winner reflects on her winning recipe
October 7, 2014
Breaking Bread Together
Rosemary Leicht is no experimentalist, tossing in ingredients and cooking to taste. Instead, the 2013 National Festival of Breads  winner from Bethel, Ohio, describes herself as a theoretical baker — scouring cookbooks requested from the public library and the Wednesday New York Times Food section, jotting down notes on the backs of old Christmas cards and assembling all the pieces and parts of a great recipe. Only then does she bake.
Rosemary's winning recipe for
Onion Parmesan Cracker Bread
proves her system works. The crispiness of her time-saver recipe literally allows family and friends to "break bread together."
In fact, her family was her recipe's inspiration. After Rosemary's son-in-law raved about a bread at a Chicago restaurant, she decided to make her own version. During four months of testing and tweaking, she sought to give the recipe more "pop" without being too complicated or taking too much time.
"I wasn't even thinking about winning," she said. "I was just hoping to be a finalist."
Making Baking a Family Affair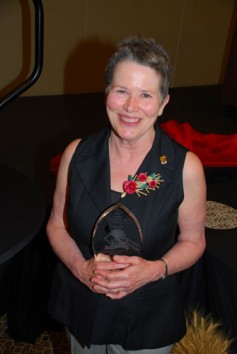 Rosemary's love of baking started early. Her grandfather lived with her family on the farm and had a sweet tooth, particularly for yeast doughnuts. She did disclose, however, that "he would eat anything. It did not matter if it was a failure or not."
And Rosemary had plenty of time to test out her recipes. Her mother worked outside the home and did not bake anything more than a cake mix on Sundays. So, she had a simple rule — Rosemary could make anything she wanted in the kitchen, as long as it was cleaned up by the time her mother got home. By 11 or 12, Rosemary could pretty much do anything she wanted.
Sharing Her Winnings and Her Story
Since winning the National Festival of Breads, Rosemary has used her year's supply of yeast to help spread the word about baking, even at her gym. As a result, she said she has had the most interesting conversations about bread with folks old and new to baking.
Rosemary's grand prize also included a free class at King Arthur Flour's flagship campus in Norwich, Vermont. She caravanned from Ohio to Vermont and attended a whole grains class, where she learned how to weigh flour rather than measure it, which she says saves on dishes. Participants also made tasty chocolate cupcakes, which she fed to her husband whenever he got tired on the way home to Ohio.
Rosemary also suggested a visit to the King Arthur restaurant. Spoiler alert: no matter what you order, you will get a roll on the side.
For this year's entrants, Rosemary suggests paying close attention to the instructions. She said that with so many entries, not following requirements or not having clear directions will cause the entry to be eliminated quickly.
"You can have a great idea and never get to the contest if you do not follow the rules," she said.  [more tips]
Take Rosemary's theoretical baking approach and write everything down — even if no old Christmas cards are handy.
by Julia Debes 
---