100lbs of flour equals infinite knowledge
March 1, 2013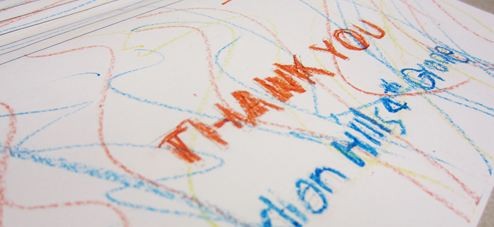 The Kansas Wheat Commission donated 100 lbs. of flour to the Shawnee County, Kansas school enrichment program. In their classes the students baked their own bread while learning what made the ingredients they were using. Many of them gained the knowledge that flour comes from wheat. We recently recieved several thank you letters from Indian Hills 4th grade and thought our readers might enjoy some of their quotes.
"When the bread got cooked we got to eat it and it was very yummy and tastey." ~Andrea
"We learned a lot about wheat and what is made out of wheat." ~Logan
"It must be hard work making all that wheat. When I grow up I want to make wheat just like you!" ~Jalen
"My favorite part was eating the bread. I also liked it when my family ate the bread." ~Remmi
"My favorite part was kneading the bread. It was so much fun!" ~Marta
Over 600 youth in Shawnee County were able to make their own loaf of wheat bread. It is through enrichment programs and classroom activites that many students gain valuable knowledge about nutrition and food.
by Nicole Lane
---