Brown-and-Serve Wheat Rolls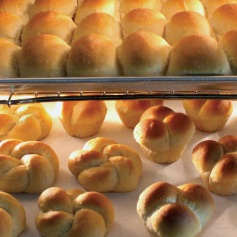 Ingredients
3 cups white whole wheat flour 
2 (¼ oz.) packages instant yeast 
½ cup granulated sugar 
2½ teaspoons salt 
1½ cups 2% low-fat milk 
1½ cups water 
½ cup (1 stick) margarine or butter 
2 large eggs, beaten 
5½-6 cups bread flour, divided 
Instructions
1. In mixer bowl, mix white whole wheat flour, undissolved yeast, sugar and salt. 

2. Heat milk, water and margarine to very warm (120°-130°F). Note: margarine or butter does not need to melt. For best results, check liquid temperature with a thermometer. 

3. Add to dry ingredients and beat 2 minutes at low speed, scraping bowl. Add eggs and 2 cups bread flour; beat 2 minutes, scraping bowl. Gradually mix in enough additional bread flour to make a soft dough. 

4. Knead on lightly floured surface or with dough hook 10-12 minutes. Cover dough; let rest 10 minutes. 

5. Shape dough as desired and place on greased or parchment-lined baking sheets or pans. Cover dough that is not being shaped so it does not dry out. Cover rolls; let rise in a warm (80°-90°F) place until doubled in size, about 45-60 minutes. To check if dough has doubled, press tip of finger lightly into side of roll. If indention remains, the dough has doubled in size. 

6. Preheat oven to 300°F. Bake rolls 20-25 minutes, or until rolls are set and they are just starting to change color. Cool rolls in pans or on baking sheets 10 minutes. Remove rolls to wire rack; cool completely. 

7. Place rolls in sealable bags, label and date. Store in refrigerator up to 1 to 2 days or in freezer up to 
1 month. 

8. To brown and serve: If frozen, defrost rolls at room temperature, about 1 hour. Preheat oven to 400°F. Place rolls on cookie sheet and bake until golden brown, about 10 minutes.
Nutrition Information
One roll provides approximately: 
132 calories 
4 g protein 
22 g carbohydrate 
1 g dietary fiber 
3 g fat (1 g saturated) 
9 mg cholesterol 
34 mcg folate 
1 mg iron 
551 mg sodium
---